(note: some photos will enlarge when clicked)
Bread this week
Cinnamon Raisin – Not the soft type of cinnamon raisin with a swirl of cinnamon sugar. This is a rustic version that is made with bread flour, fresh milled whole wheat and rolled oats. Some milk to tenderize the crumb, honey for sweetness and cinnamon mixed throughout before being loaded up with raisins. Makes delicious toast -$5/loaf
Braided Challah – a delightful soft loaf made with bread flour, lots of eggs, some sugar and vegetable oil. No butter or milk. Also makes great toast and even better french toast- $5/loaf
And for pastry…
Chocolate Babka Rolls – a rich sweet dough made with plenty of eggs, butter and sugar, rolled out and filled with dark chocolate and even more butter and sugar. Sliced into individual rolls before baking. Elizabeth K. has
been waiting for over 2 months for these so get your orders in before she does! – 2/$5
Cloudlift Returns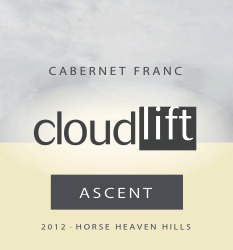 Our regulars know we have a particular fondness for the lovely wines from Cloudlift Cellars in Seattle. I dropped in on our friend and Cloudlift winemaker Tom Stangeland a couple of weeks ago and brought home a number of new releases that we will be pouring one by one over the next several weeks. Last time we did this the Hit of the Show was Tom's "Ascent," mostly cab franc from Horse Heaven Hills.
A 2013 vintage has been released, but since there is still some of the '12, I thought we all deserved another taste of an old favorite, even better after another couple of years in bottle!
Cab Franc is the fourth most-produced red wine grape in Washington, behind Cab, Merlot and Syrah. Most often, as elsewhere in the world, it is primarily used as a blending grape in wines where cab sauv and/or merlot dominate. In our Fair State, cab franc often has softer tannins than cab sauv or merlot, and brings notes of garrigue and black pepper along with hints of chocolate and coffee…yes, indeed, very easy to like!
PUpdate
Ulee is now 4 months old, and weighs in at 21 lbs. The Puppy Growth Chart projects he will therefore level off between 30 and 35 lbs, about the same weight as Tator. However, like other "mini" Aussies (including our dear boy Cooper) Ulee conforms proportionally to the AKC standards for the breed, which are heavier than the ASCA dogs, which are bred longer, lighter, and more maneuverable for the agility that herding dogs require.
After a month of studiously avoiding Ulee, in the last week Tator has been spending a lot of time with him, trying to teach him the Rules Around Here. She is very patient, and seems to have no trouble with issuing the same correction over and over, maybe amping it up a little each time, but always very measured. It's an interesting model to observe; any time he crosses some "line" she issues a corrective bark, growl, nip, or takedown, and then backs off and waits to see what he has learned. She seems infinitely patient with the process, and they seem to be developing quite a Bond. Absolutely fascinating to watch!
Back Porch Robins

A few weeks ago we noticed a bird's nest just outside our back door, on a beam up under the roof that covers the back deck. A few days later through the bathroom window we saw a robin sitting in the nest, as if incubating eggs. We also noticed that if we or one of the dogs went onto the back deck, the robin would quickly, smoothly, and silently drop off the back of the beam and fly away with distracting calls. Then, over the next ten to twenty minutes she would follow a circuitous path around the back yard, pausing to watch at a number of different spots before very indirectly going back to the nest.
Two days ago we looked up and saw Momma Robin dropping food into two gaping beaks, and yesterday I got this photo of Momma and one chick. A Definite Sweet Sign of Spring, now showing at a Nest near you!
Relaxing at Mar a Lago
There is a contemporary Myth that for many decades the Outgoing President leaves Three Envelopes for the Incoming President, with the following Instructions:
"During your time in office you will face Three Crises. When the first crisis happens, open the First Envelope. When the Second Crisis happens, open the Second Envelope, and when the Third Crisis happens, open the Third Envelope. These guidelines represent the cumulative Wisdom of all who have held this office."
Eventually each President feels compelled to turn to the envelopes. The first one says, "Blame Me." The second one says, "Blame Congress." The third one says, "Prepare Three Envelopes."
Judging from recent news blaming Obama and the Democrats for Everything the Republicans can't seem to get done despite their control of every single branch of the Government, it would seem that on Day 100 the First Envelope has been Opened. Make a note of it, and Stay Tuned…
This week's  wine tasting
Aravo albarino '13 Spain  $14
A one-of-a-kind, lush, medium-bodied Albariño that fills the mouth with apples, lime, peaches, flowers and grass, with bracing acidity and cleansing minerality.
Saint Nabor Gris de Gris Rose '12       France         $10
Bouquet of red fruit and honeysuckle with linden-tree nuances; light, crisp and easy drinking, with palate of wild strawberries and blueberries with mineral nuances.
Flaugerges Les Comptes Rouge '12    France   $13
Grenache blend; Garnet red, with slightly spicy aromas and flavors of olives, herbs, blackcurrant, cherries,  and raspberries.
Esplugen Priorat '14   Spain       $17
Garnacha, carinyena, cab sauv; Priorat's famous slate soil and arid climate give this wine great intensity and structure, with deep and complex aromas of rich ripe fruit and toast notes, and a long pleasing finish .
Cloudlift Ascent '12    Washington  $27
80% cab franc, 18% merlot, 2% petit verdot; aromas of black cherry, dark strawberry, sweet herbs and notes of minerality; light and silky mouthfeel with flavors of black cherry, cocoa powder and crushed herbs  with bright acidity and hints of toasted almond on the finish.

If you enjoyed this post, please consider to leave a comment or subscribe to the feed and get future articles delivered to your feed reader.