Covid Notes: New Restrictions in Place 
We are still operating under reduced hours 4-6 pm Friday and Saturday for wine tasting and sales. However, given the surge of the thousand-times-more-contagious (no, we are NOT making this up) Delta variant in some parts of our state and across the country, and given the vulnerability of our many senior members, for the time being we will not be serving individuals who have not completed their Covid shot sequences. 
In addition, over the past few weeks we have been seeing larger groups of first-time visitors as families and friends gather together from far and wide to celebrate our new collective freedom to associate. Such visiting groups are welcome for service outside on the deck only if all present have completed their full shot sequence.
Covid is a deadly disease that is completely indifferent to our political beliefs and preferences. Our collective responsibility is to protect our neighbors by protecting ourselves. Thanks for honoring our boundaries.
Friday Bread This Week

Toasted Pecan & Flax Seed – Made with a starter fed with rye flour instead of wheat flour, for a different flavor profile. The final dough is made with bread flour as well as fresh milled whole wheat. Toasted pecans, flax seeds and honey all add up for a very flavorful bread – $5/loaf.
Heidebrot – which roughly translates to "bread of the heath." This is a farmhouse bread, an aromatic, lighter sourdough made with whole grain rye, made with a rye-fed sourdough starter along with substantial fresh milled whole grain rye flour and regular bread flour. – $5/loaf
and pastry this week…
Kouign Aman with Cream Cheese filling : Made with the same traditional laminated french pastry used for croissants. Has both a little levain for the sourdough flavor as well as some pre-fermented dough to help build strength. When rolling out however, instead of using flour to prevent sticking, sugar is used. The dough is cut into squares, placed in cupcake tins then filled with a cream cheese filling. It's as if a cheese danish and croissant were in a car wreck!  – 2/$5
Wine of the Week: Kerloo Majestic GSM  '17       Washington       $24

Kerloo Cellars was started on a shoestring in 2007 by beginning winemaker Ryan Crane after studying enology at Walla Walla CC and apprenticing at Forgeron and Va Piano. His interest has always been to produce wines that told of their place of origin (terroir) through all of one's senses…a vaguely spiritual quest, perhaps, or just a desire to make us all smile. To this end he contracts with growers for fruit from specific blocks of their vineyards that he calculates will help him achieve his broader goal:
"to build a portfolio of wines that made you feel something versus just taste something."
This week's featured wine is his version of the popular Rhone blend of syrah, grenache, and mourvedre, now Americanized to "GSM" on many labels. His Old World approach to showcasing place of origin even extends to foot-stomping the whole grape clusters before fermention. Yeah, it's pretty good, we have been fans for some years now. 🙂
74% Grenache, 21% Mourvedre,  5% Syrah; smoky-meaty nose of blackberry cobbler and dusty terrain, with a soft, seductive mouthfeel, and red and dark fruit with shades of pipe tobacco and leather.
Thimbleberries
Thimbleberries are something of a local curiosity here on the island, growing in thick banks alongside our roads, often alongside salmonberries, another Northwest native. According to Wikipedia they are, like other raspberries, not a true berry, but instead an aggregate fruit of numerous drupelets around a central core. The drupelets may be carefully removed separately from the core when picked, leaving a hollow fruit which bears a resemblance to a thimble, perhaps giving the plant its name.
We often find wines with flavors reminiscent of thimbleberries, definitely raspberry-like, but somehow brighter and more acidic, and often with a sort of dusty quality (probably from dirt blown onto them by passing cars!). For the past week we have been harvesting little handfuls of them on our dog walks, as this year seems to be delivering a bumper crop. Each day we pick the ripe (i.e., bright red) ones we can reach and eat them on the spot.
Look for them along roads, driveways, or the edges of fields. The leaves are quite large, with a maple leaf shape. And yes, they are a perfect match for the many dry rosés we have in stock right now!
Economics of the Heart: Wake-Up Call

Some people sleep more soundly than others. They can be hard to wake up. The alarm has to be louder, the barking dog more insistent, the bucket of cold water even colder. Even those who have chosen to live in denial of inconvenient truths might eventually wake up to climate change when things get bad enough. Since that will almost certainly happen too late to matter, our only hope for Life to endure on out Dear Planet Earth is for the rest of us to commit ourselves to making it happen with or without them. We have maybe ten years to start making things better faster than we are making them worse.
The recent record-breaking heat wave here in the Pacific Northwest, across the Great Plains, and even surging Northward into the Canadian Arctic should have been enough of a shock to grab everyone's attention.  For several days, it got much hotter in many places than it had never been before. Climate change may already be taking off the training gloves, and we are totally not ready for it. 
We clever humans find ourselves suddenly out of charted territory. Our models of the Future have of necessity been based  on observations of the Past, and the Past is a very long time. But we have no records to show us how oceans and atmosphere will respond to the rapid warming we humans have unleashed.  How will the ice sheets in Greenland and Antarctica respond to a warming atmosphere and warming oceans? How can living ecosystems survive rapidly changing temperatures and patterns of water distribution? 
A couple of recent articles in the Washington Post expand on two very important aspects of global warming that have been predicted but seldom discussed. The first explores the practical issue of how we can use passive cooling methods and materials to cool our homes and workplaces without energy-intensive air conditioning. It offers many encouraging and interesting suggestions.
The second article explores our human biological limits to heat adaptation. Using the metaphor of wet bulb vs. dry bulb temperature, the authors give a clear description of the limits of human heat endurance, beginning with the limitations of our perspiration/evaporative cooling under conditions of high temperature combined with high humidity. As we read it we found ourselves reminiscing about the complex water-preserving culture, ritual, and technology of the desert-dwelling Fremen in Frank Herbert's iconic novel Dune.
The history of hunter-gatherer societies  is centered around a somewhat spiritual concept of sustainability, in which there is a constant awareness of the fragility of abundance and the need to hold reserves against unfavorable futures. Today's human economy has separated production and consumption so thoroughly that we have lost the precious awareness of ancient hunter-gatherers to remain prepared for periods of scarcity. 
This week's $5 tasting:
Bargemone Provence Rose '20  France    $14
Beautiful pale pink, with bright, mineral-dusted aromas of pink grapefruit and dried red berries. Light and racy on the palate, with tangy citrus and redcurrant flavors. Finishes brisk and dry, with good lingering spiciness and length.
Conundrum White '15    California  $17
Blend of Chardonnay, Sauv Blanc, Viognier, and Muscat Canelli. Nose of citrus orchard in bloom. Tastes sweet without being cloying, showing fig, apricot, exotic spice and melon flavors. Ends clean, crisp, and pure.
Kerloo Majestic Syrah/Grenache  '18       Washington       $24
74% Grenache, 21% Mourvedre and 5% Syrah; smoky-meaty nose of blackberry cobbler and dusty terrain, with a soft, seductive mouthfeel, and red and dark fruit with shades of pipe tobacco and leather.
Current Hours: Friday & Saturday 4-6pm
We are still operating under reduced hours 4-6pm Friday and Saturday for wine tasting and sales. Covid vaccinations are required for admission upstairs in the tasting room, but unvaccinated guests are welcome to enjoy wine tasting outside on our entry deck.
Friday Bread This Week

Pear Buckwheat – Made with a a poolish pre-ferment of bread flour, water and a bit of yeast and fermented overnight. Mixed the next day with bread flour and fresh milled buckwheat. Since buckwheat has no gluten using the preferment allows the dough to begin to develop before the final mix. The addition of toasted walnuts and dried pears soaked in white wine makes for a really flavorful bread – $5/loaf
French Country Bread – A levain bread made with mostly bread flour, fresh milled whole wheat and and a bit of toasted wheat germ. After building the levain with a sourdough culture and mixing the final dough it gets a long cool overnight ferment in the refrigerator. This really allows the flavor to develop in this bread. Not a refined city baguette, but a rustic loaf that you would find in the countryside. A great all around bread –$5/loaf
and pastry this week…
Gibassiers – A traditional french pastry that incorporates the flavors from the south of France. Made with a delicious sweet dough full of milk, butter, eggs and olive oil. The addition of orange flower water, candied orange peel and anise seed bring great flavor to these pastries. After baking they are brushed with melted butter and sprinkled with more sugar. Ooh La La a delightful pastry to go along with your morning coffee or tea.  – 2/$5
Wine of the Week: Ad Lucem Elaina Red  '16      Oregon   $18
For those of you who never took Latin (it has turned out to be surprisingly useful over the years), the rough translation of "Ad Lucem" is "Toward the Light." Its label is one of several used by Oregon wine industry pioneer Jerry Owen of Lady Hill winery, who was a founding partner in the well-respected Owen Roe winery in 1999 and numerous other wine ventures.
The Lady Hill Winery is across the road from Champoeg State Park in the northern Willamette Valley in Oregon, where his ancestors settled in 1850. We have made it something of a habit to visit the winery whenever we bivouac at this very pleasant State Park, and have found it a welcome destination with delicious wines and enjoyable conversations. Before Covid Jerry offered to drive up here some weekend and pour some of his wines for all of us, and we will keep trying to make that happen.
Ad Lucem is Lady Hill's label for Rhone blends (any wines containing Grenache, Syrah, or Mourvedre), while Bordeaux reds (Cab Sauv, Cab Franc, Merlot, Malbec) bear the Lady Hill label, and rosés carry a Procedo  label. Therefore, our featured wine this week is a blend of the three main Rhone varietals that has been making people smile for generations.
The Economics of the Heart: Lemming Lessons

The popular myth is that from time to time entire populations of little rodents called lemmings commit mass suicide by throwing themselves en masse off high cliffs into unsurvivable Northern Oceans. In reality, lemmings do indeed migrate in large numbers, particularly when their numbers strain the available food supply. And while that may involve swimming rivers, lakes, or ocean shorelines, they are very good swimmers.
Lemmings are creatures of the North. In winter, they create extensive networks of tunnels under snow and ice fields. Some winters, temperatures and humidity create ideal circumstances for them to thrive between the land and snow cover, and their numbers (mammals being what we are) can increase rapidly, triggering their instinct for some large subgroups to migrate in search of more favorable circumstances.
We old-timers – you know, So Old we took Latin in high school- were born into a world of about 2.5 billion human beings. Seven decades later, we live in a world with three times as many human beings, some 7.8 billion souls. Like lemmings, we all consume, eliminate, and reproduce. And like lemmings, when we have consumed, eliminated, and reproduced a place into economic uninhabitability, we migrate to where the grass is still green. That's what living organisms do.
In just the last couple of months, we have had some alarming messages from our Planet that it's time to send a big chunk of us on a migration for more space and more resources…but of course there is nowhere else for us to go. These alarms have included our  region's recent record-breaking heat wave; the increasing intensity of winds, rains, and flooding; the warming of ocean surface temperatures and slowing of climate-stabilizing currents like the Gulf Stream; the melting of polar icecaps; and the now-ongoing likelihood of extinction of millions of species. And if that isn't scary enough, in a very short period of time these changes will become Irreversible. 
Like lemmings, we have been very successful at blithely consuming the resources around us and enjoying an extraordinary 100-year population boom. Like lemmings we have expanded our exploitation of resources to meet our increasing numbers and frivolous desires. Unlike lemmings, we have done it on a scale which has created gigantic negative feedback loops which are eroding the Earth's capacity to support Life of any kind for any species for very much longer.
In the midst of this very real Existential Crisis, we are baffled that so many of our fellow humans are mocking and ignoring these dangers and squandering the little time we have left in the name of extravagant political power.
This week's $5 tasting:
Saint Nabor Gris de Gris Rose '16       France         $10
Bouquet of red fruit and honeysuckle with linden-tree nuances; light, crisp and easy drinking, with palate of wild strawberries and blueberries with mineral nuances.
Charles Krug Napa Valley Chardonnay  '17            Napa      $18
The cool, foggy North Bay/Carneros region delivers a nice balance of acidity and ripeness, evoked nicely by barrel fermentation and sur lie aging, producing aromas of tropical fruit and citrus blossom with flavors of peach and pear.
Lady Hill Ad Lucem Elaina Red '16   Washington    $17
Grenache, syrah, mourvedre blend; aromas of toast, dark fruits and berries, and grilled meat that expand into mouth-watering rich flavors and crisp acidity on the palate.
Current Hours: Friday & Saturday 4-6pm
We are still operating under reduced hours 4-6pm Friday and Saturday for wine tasting and sales. Covid vaccinations are required for admission upstairs in the tasting room, but unvaccinated guests are welcome to enjoy wine tasting outside on our entry deck.
The weather looks clear through the weekend, with sunshine and moderate summer temperatures predicted.

Bread This Week

Levain w/ Dried Cherries and Pecans – A levain is started the night before final mixing of the dough using a sourdough starter to trigger the fermentation process and start developing the gluten. The final dough is made with the levain, bread flour and fresh milled whole wheat, then loaded with dried cherries and toasted pecans. A nice rustic loaf that goes well with meats and cheese.– $5/loaf
Pan de Cioccolate – A delicious chocolate artisan bread without lots of eggs, butter and sugar. Rather this is a rich chocolate bread made with a levain, bread flour, fresh milled rye flour, honey, vanilla and plenty of dark chocolate. Makes fabulous French toast! – $5/loaf
and pastry this week…
Individual Cinnamon Rolls – Made with a rich sweet roll dough of eggs, butter and sugar. The dough is rolled out, spread with pastry cream and sprinkled with cinnamon sugar, then rolled up and sliced into individual rolls for baking and topped off with a cream cheese glaze. – 2/$5.
Wine of the Week: Willamette Valley Vineyards Whole Cluster Pinot Noir '20       Oregon   $20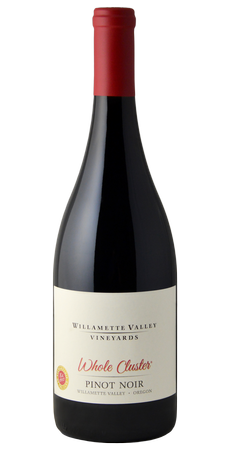 Notes: Made from hand-picked whole clusters fermented in chilled stainless vats; nose opens with aromas of blackberry, cherry, and raspberry accented by subtle spice and vanilla. Palate is rich and crisp, leading to juicy flavors that mirror aromas plus hints of dark chocolate and mocha that flow into a soft, round, balanced finish.
Willamette Valley Vineyards was founded in 1983 by Jim Bernau near Salem, Oregon. It has acquired numerous area vineyards over the years through mergers with other growers. Each vineyard harvest is separately fermented, with the best going to single vineyard bottlings to showcase the best fruit characteristics of each site, with attention to depth, richness of mouthfeel and balance.
The basic story is that Jim's father, a lawyer in Roseburg, Oregon in the sixties, was approached by recent UC Davis Graduate Richard Sommer about navigating around the outdated Oregon laws against winemaking left over from Prohibition. Jim, btw, made his first wine at age ten from frozen grape juice, and just stayed with it.
Here's a short video on the winery's history.
Those of you who frequent our shop will recall that in the last couple of years we have carried several wines under the label of "Oregon Solidarity." In late September of 2018 a California winery owned by wine mogul Joe Wagner abruptly cancelled its long-standing $4 million order for Oregon fruit. Left in a deep lurch, growers turned to Oregon wineries King Estate and WVV for help.
Together with two smaller wineries (Silvan Ridge and Eyrie), they bought the entire harvest of pinot noir and chardonnay and turned them into three wines under the "Oregon Solidarity" label: a rosé, a chardonnay, and a pinot noir. We have carried them all, and many of you have bought and enjoyed them. So our hats have been off to all of the wineries that participated in this hastily organized community project!
Today's whole cluster pinot noir is a blend of fruit from several WVV vineyards which was not selected for any of the single-vineyard wines.
The Economics of the Heart: In Praise of Biden-omics

In a recent speech, President Biden gave just about the best definition of economics we have seen in a very long time:
'Now, look, I'm a proud Capitalist. I spent most of my career representing the Corporate State of Delaware. I know America can't succeed unless American business succeeds…But let me be very clear: Capitalism without competition isn't Capitalism; it's Exploitation. Without healthy competition, big players can charge whatever they want and treat you however they want. And for too many Americans, that means accepting a bad deal for things you can't go without.'
There is a great deal of public confusion about Economics. Much of that confusion has been sown, fertilized, and plowed into the American psyche by many decades of misleading political manipulation. At its simplest level, as we have mentioned before, the "economy" is a parlor game where everyone who buys or sells anything has a seat at the table. When any exchange takes place, goods and services are exchanged for credit (let's call it "money"). The "economic" assumption here is that rational people will only make exchanges that make them feel better off. And to the extent that all economic actors are rational, economic theory tells us that all willing parties to a trade will feel better off after the trade than before.
This is the logic behind the myth that free markets make everyone better off. The fact is that in the Real World there are consistent economic winners and losers. Why?  Because every real-world exchange deviates in some way from the long list of very restrictive assumptions that must hold true for an exchange market to be "perfectly competitive." These include missing conditions like perfect information, large numbers of buyers and sellers for any product or service, no spillover effects (like pollution, noise, or nuisance), any many, many more. The best examples of Real competitive markets are public markets with many vendors for any particular product or service.
So when Mr. BIden says "Capitalism without competition isn't Capitalism; it's Exploitation, he is completely aligned with the writing of classical economist Adam Smith, who wrote, in The Wealth of Nations in 1776 : "No society can surely be flourishing and happy, of which the far greater part of the members are poor and miserable. It is but equity, besides, that they who feed, cloath and lodge the whole body of the people, should have such a share of the produce of their own labour as to be themselves tolerably well fed, cloathed and lodged."
Even iconic Conservative economist Milton Friedman, who spent a lifetime extolling the virtues of competition and the dangers of regulation, also recognized the failure of markets to assure either livable incomes or equitable outcomes. He was a long-time advocate of a negative income tax as a means of adding an element of fairness to an economic system fraught with unequal starting positions, unequal opportunities, and unequal and unacceptable economic outcomes.
Republicans have been paying lip service to the sanctity of "the Free Market" since Reagan used it as a justification for throwing the poorest, neediest, and sickest of us Under the Bus in the name of Freedom. As we now see clearly every day, the Republican Wet Dream Economy elevates the wealthiest, diminishes the poorest, and punishes the weakest, all while destroying our fragile Planet with their Astonishing Environmental Ignorance and breathtaking Hubris.
This week's $5 tasting:
La Vielle Ferme Rosé '20    France    $10
Classic and tasty blend of grenache, syrah, and cinsault from northern Provence;  fruity, dry, crisp, delicious, and smooth, and at a bargain price!
2020 Charles Krug Napa Valley Sauvignon Blanc   Napa      $15
Cold-soaked before pressing and cold-fermented on the skins to develop rich and nuanced aromas and flavors of grassy lime, tropical fruits, and lychee, with a crisp, lingering finish.
Willamette Valley Vineyards Whole Cluster Pinot Noir '20    Oregon   $20
Hand-picked whole clusters are fermented in chilled stainless vats; opens with aromas of blackberry, cherry, and raspberry accented by subtle spice and vanilla. Palate is rich and mouth-coating, leading to juicy flavors that mirror aromas with the addition of dark chocolate and mocha that flow into a soft, round, balanced finish.
Current Hours: Friday & Saturday 4-6pm
We are still operating under reduced hours 4-6pm Friday and Saturday for wine tasting and sales. Covid vaccinations are required for admission upstairs in the tasting room, but unvaccinated guests are welcome to enjoy wine tasting outside on our entry deck.
The weather looks clear through the weekend, with sunshine and moderate summer temperatures predicted.

Bread This Week

Kamut Levain – Kamut, aka khorasan wheat, is an ancient, protein-rich grain discovered in a cave in Iran in the 70's that many people who can't tolerate wheat find more digestible. This bread is made with a levain that is fermented overnight before being mixed with with bread flour and fresh milled whole kamut flour. It has a nutty, rich flavor and makes a golden color loaf. A great all around bread – $5/loaf
Barley, Whole Wheat, & Rye Levain – a really nice mule-grain artisan  bread made with a sourdough culture built over several days. Made with bread flour and freshly milled whole wheat, barley and rye flours. A hearty whole grain bread that is a great all around bread – $5/loaf
and pastry this week, another favorite…
Morning Buns – Made popular by Tartine Bakery in San Francisco with the same laminated dough as croissants. The dough is rolled out, spread with a filling of brown sugar, orange zest, butter and cinnamon, then rolled up and sliced before baking.  – 2/$5
Wine of the Week: Casal Garcia Vinho Verde

As our dear, Portuguese-fluent friend Myra taught us years ago, the correct way to pronounce "vinho verde" (literally 'green wine' –for its youth, not its color– is something like "veen-yo vairdge." We should also note that when she says it, she moves her head and hands in space, painting the words in the air like a Samba. So you know this has to be, you know, Something Special. Which is true, especially in mid-summer.
This little region at the northern end of Portugal has been making this wine for some 2000 years in what was once called the Minho province.  It's in the blood, it's in the landscape, it's in the long cultural history of the region. There are some 19,000 individual "vineyards" spread over 51,000 acres. A quick calculation reveals that on average, that's about 2.6 acres per vineyard. But many of those are even much smaller family vineyards grown on stone walls, fences, and pergolas on whatever land is available.
Located on the Atlantic west coast of the Iberian Peninsula in northern Portugal, the Vinho Verde region resembles the Pacific NW with its lush, green landscape and temperate climate. Grape varietals permitted in vinho verde include Alvarinho, Avesso, Azal, Arinto, Loureiro, and Trajadura, which all grow well in the area.
Usually bottled within three to six months after harvest, "green wine" pairs beautifully with summer salads, seafood and Asian cuisine, and is meant to be enjoyed young. Often it shows a light frizzante on the palate and a hint of off-dry sweetness balanced nicely by palate-cleansing acidity and a soothing freshness.
A light wine that is marked by its beautiful citric colors and incredible freshness with with soft aromas of tropical fruits and citrus. A very balanced wine that leaves a harmonious and citric after-taste.
The Economics of the Heart: Media and Anger Management

We were fascinated some years ago by the behavioral differences between Chimpanzees and Bonobos described in  Demonic Males: Apes and the Origins of Human Violence. A major takeaway from the book is that the organization of male-dominated Chimp society continually stimulates ongoing male violence– against females, against other males in their own group, and even more violently against males in other groups.
This violence has been further correlated with the olfactory obviousness of female estrus in chimp females; research has suggested  that "no adult male chimpanzee is subordinate to any female of any rank," and that chimp males have "an innate propensity for dominance, gratuitous violence, war, rape, and murder."
In contrast, in bonobo society, estrus has more subtle outward signs, and therefore does not evoke male competition, and indeed may explain why bonobo society is essentially matriarchal. The implication is that a single variable (the scent of female estrus) has had a profound effect on the evolution of these two closely related primates.
Over the last few years, we have observed the emergence of a similar contrast between Republicans and Democrats. At first glance, they seem members of the same species, citizens of the same Country. But the inescapable truth of our recent experiences is that Republicans are like chimps in some kind of Estrus Rage. They have become irrational to the point of delusion. Their media outlets purposely broadcast in RAISED and ANGRY voices, deliberately evoking Outrage and Anger with Lies Big and Small.
The polarities between chimps and bonobos are artifacts of their genetic differences. The polarities between Republicans and Democrats are manufactured continually and deliberately to keep a base of voters misinformed and malleable pawns in a power game aimed at taking over this country and dismantling it piece by piece–the ultimate corporate Takeover and Liquidation of Assets.
Hard to digest under any circumstances, but probably your best bet is serving at room temperature for the Last Show at the Restaurant at the End of the Universe…
This week's $5 tasting:
Adorada "eau de California" Rosé   '16         California       $14
Brilliant coral color with aromas of strawberries, red grapefruit, rose petal, and jasmine; palate of strawberry, orange zest and a touch of white pepper spice with bright acidity to balance the fruity creaminess. And all presented in a Very Fashionable Package!

Casal Garcia Vinho Verde       Portugal     $10
A light wine that is marked by its beautiful citric colors and incredible freshness with with soft aromas of tropical fruits and citrus. A very balanced wine that finishes with a refreshing, crisp, and harmonious finish.
Daou Pessimist Red blend '17       California  (Paso Robles)      $25
Full-bodied, rich and spicy, with good balance and unfolding layers of elderberry and truffle with accents of cocoa, cardamom  eucalyptus, leather, tobacco, and grilled meat, with an alluring, smooth and leisurely finish.