Hours this weekend: Open 3:30- 5:30 pm Friday Only

Our current plan is to be open Fridays only through February.

Covid (and a bunch of other winter bugs) is still around, more contagious than ever, but far less threatening for the vaccinated.
We all have our own comfort zones; these days we all have to manage the space around us in our own way. Just be mindful of the risks, thanks.

Friday Bread This Week

Pain Meunier -Aka Miller's Bread to honor the miller who mills the wheat. Made with pre-fermented dough it contains all portions of the wheat berry: flour, fresh milled whole wheat, cracked wheat and wheat germ. Always a favorite and a great all around bread. It makes the best toast! – $5/loaf
Sonnenblumenbrot – Aka Sunflower Seed Bread, made with a pre-ferment that takes a portion of the flour, water, salt and yeast that ferments overnight before mixing the final dough with bread flour and freshly milled rye, then loaded up with toasted sunflower seeds and some barley malt syrup for sweetness. – $5/loaf
and pastry this week…
Traditional Croissants – Made with both a sourdough levain and a prefermented dough – aka "old dough" where a portion of the flour, water, salt and yeast is fermented overnight. The final dough is then made with more flour, butter, milk and sugar, laminated with more butter before being cut and shaped into traditional french croissants.  –2/$5
To get on the bread order list, click on the "Contact Us" link above and fill out the form. Each week's bread menu is sent to the list each Sunday, for ordering by Tuesday, for pickup on Friday. Simple, right..? If you will be visiting the island and would like to order bread for your visit, at least a week's notice is recommended for pickup the following Friday.
Wine of the Week:  Wolftrap Syrah Mourvèdre Viognier '18     South Africa     $12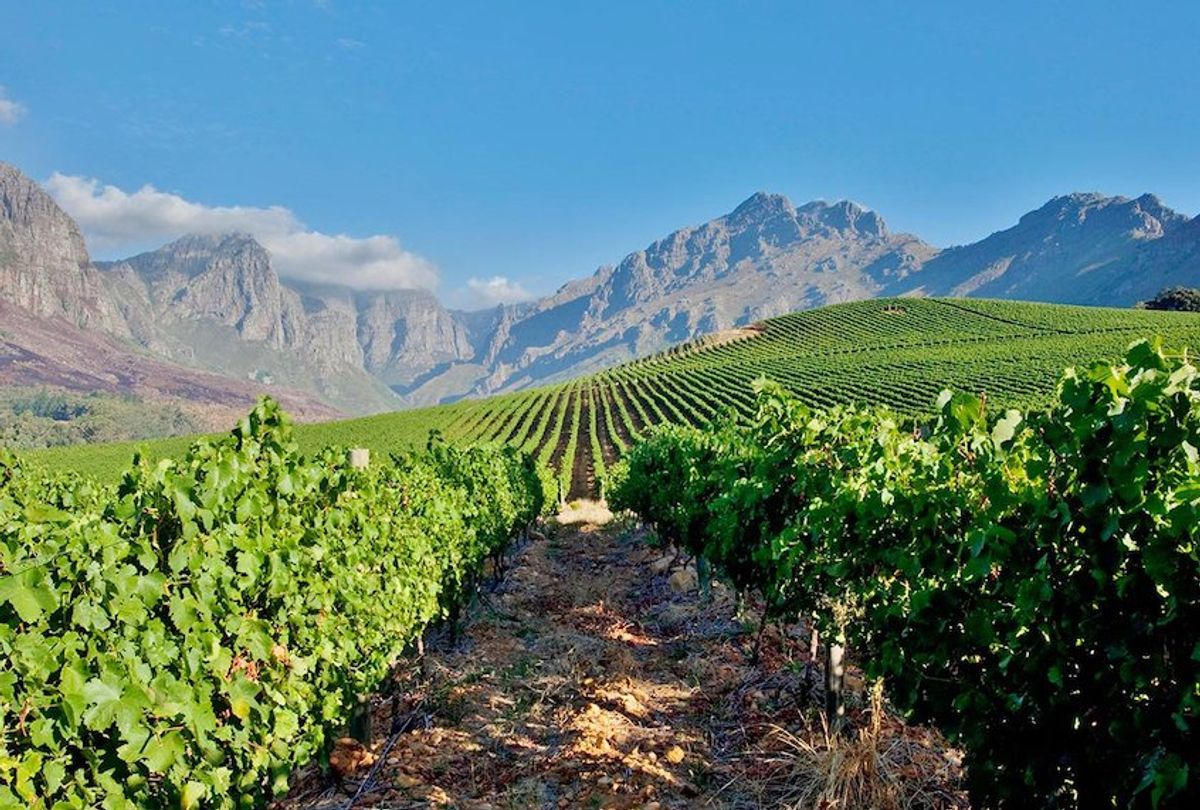 Boekenhoutskloof farm was established in 1776 in the furthest corner of the beautiful Franschhoek Wine Valley of South Africa, about 50 km east of the Cape of Good Hope.
The farm's name means "ravine of the Boekenhout" (pronounced Book-n-Howed), which is an indigenous Cape Beech tree greatly prized for furniture making. In 1993 the farm and homestead were bought and restored and new vineyards planted for Syrah, Cabernet Sauvignon, Cabernet Franc, Grenache, Semillon and Viognier.
When the farm was founded, the Franschhoek valley was far wilder than it is today. Though the mountains are still alive with indigenous animals, including the majestic leopard, the only evidence that wolves once roamed here is an ancient wolf trap found long ago. This wine was named in homage to the mysteries and legends of days long gone by.
Most of the Syrah in The Wolftrap comes from the Swartland region (photo, left), where it develops its robust character and elegant aromas of violets, ripe plums, and spicy, peppery profile and juicy, fruity character. The Mourvèdre, also from the Swartland, lends a red fruit character and smoky body while a dash of Viognier adds perfume and verve for a rustic Rhône-style blend that seriously over-delivers for its $11 price point.
Economics of the Heart: Capital Repairs vs. Routine Maintenance

Ferry accounting practices again took a front row seat in Island consciousness this week.

A County Council vote to approve a very recently (just a month ago) proposed and very expensive ferry fare increase was scheduled for this past Tuesday night. Around noon there was a Council subcommittee meeting that briefly heard suggestions from LIFAC (Ferry Advisory Committee) before scheduling the Council vote.
The upshot of the LIFAC presentation was that many Islanders were very upset about both the magnitude and financial impact of the fare increase and the methodology which was used to generate its size and need. And at the end of the day, to our surprise and relief, the committee decided to postpone action until their March meeting. That gives us two months to organize a community response. This delay is a big and surprising victory, since until then the fare increase juggernaut was steamrolling all questions and objections into a long line of Chicken Little pancakes.
Even more surprising, our own challenges to the capital accounting calculations of the portion of annual operating expenses that must be paid from fare receipts seemed to gain a bit of traction. We maintain that many very large expenses that the County has classified as "regular maintenance" are actually capital improvements, not routine maintenance . A perfect example is the series of "repairs" to the landing dolphins (see photo above) which cushion and absorb the ferry's momentum when docking. The current "repair" is expected to cost $400,000, and that's in addition to  similar recent rebuilds of several others. Let's face it, folks, there is nothing "regular and ordinary" about major infrastructure improvements.
A search online comparing accounting practices for ordinary repairs vs. capital repairs yields consistent results across the board. A repair must be considered a capital improvement if it meets any one of these criteria:

Extends the asset's useful life beyond that originally estimated, OR


Enhances its overall value, OR

Makes it better, more efficient, or more productive.
Still, these are questions best answered by accounting experts. Fortunately, all local and state agencies are subject to oversight by the Washington State Auditor's Office, and we happen to have a branch office in Bellingham. We have asked that office to take a closer look at these County accounting practices to determine if they conform to State standards, and are hopeful that can happen soon.

In the meantime, there is a lot of interest and traffic on our local Nextdoor website about the economic and social impacts of the proposed fare increases. According to 2020 Census data, around 350 Island residents consider themselves regular commuters who ride the ferry to the mainland to work most days, about 250 round trips per year. That adds up to about $1000/yr for every $4 in fares. Current punch card fares are currently around $10 for car/driver, or $2500/yr for a commuter. Under the proposed fare increase that will go up to around $3500/yr for a car/driver and — we are not making this up– still $2500/yr just to walk on. No other ferry system on the planet has such a disproportionate charge for walkons.

So there are a bunch of ethical issues here as well as financial ones. It is reasonable for someone who lives on the Island to have to pay that kind of money just to drive to work every day? Everyone else gets to use all the other County and State roads at no charge. Not that many years ago our ferry route was actually classified as a state highway. Why did that change?

to be continued

This Week's $10 Wine Tasting
Bodega Garzon Albarino '21        Uruguay        $15
Pale yellow with greenish reflections, this Albariño is intense in the nose, with peach and citrus notes. The freshness and minerality mid-palate is superb, with remarkable acidity and a round, crisp finish. A lovely wine at a bargain price!

The Wolftrap Syrah Mourvèdre Viognier '18      South Africa    $12
Aromas of ripe plums, red currants, violets, Italian herbs and exotic spices lead to vibrant flavors of darker berries and spicy plum with hints of orange peel that linger on a juicy finish. Also way over-delivers for its modest price!

Daou Pessimist Red blend '20       California  (Paso Robles)      $25
Full-bodied, rich and spicy, with balanced layers of elderberry and truffle with accents of cocoa, cardamom  eucalyptus, leather, tobacco, and grilled meat, alluring texture, and leisurely finish.

Hours this weekend: Open 3:30- 5:30 pm Friday Only

Our current plan is to be open Fridays only for the rest of January.

Covid is still around, more contagious than ever, but far less threatening for the vaccinated.
We all have our own comfort zones; these days we all have to manage the space around us in our own way.
Friday Bread This Week

Buckwheat Rye – Fresh milled buckwheat and rye flours are soaked for several hours without any yeast in a method known as an autolyse. As buckwheat has no gluten and rye doesn't have much. The autolyse allows the grain to start the fermenting process and really gets the enzymes going before the final mix – which is then fermented overnight in the refrigerator. The buckwheat, rye soaker is mixed with bread flour, salt and yeast and a bit of honey. Goes well with all sorts of meats and cheese – $5/loaf
Whole Grain Spelt Sweet Levain – Similar to a bread I sampled in Latvia it is made with a levain, also known as sourdough, freshly milled whole wheat and whole spelt before mixing with bread flour as well as a nice combination of dried apricots, golden raisins, slivered almonds and both sunflower and flax seeds. Chock full of flavor! – $5/loaf
and pastry this week…
Bear Claws!! – Made with a danish pastry dough rich in cream, eggs, sugar and butter. The dough is rolled out and spread with a filing made with almond paste, powdered sugar, egg whites and just a bit of cinnamon to round out the flavor. Then, because bears love honey, topped with a honey glaze after baking. As always, quantities are limited, be sure to get your order in before you miss out- 2/$5
Wine of the Week: Marchetti Verdicchio di Castelli di Jesi Classico '21         Italy       $14
The Marche wine region reaches from the mountainous spine of Italy to the Adriatic. This week's low-yield Verdicchio is a hallmark of the varietal, with refreshing citrus fruits, playful acidity, and complex minerality. Made only with juice from a gentle half-press, it is precise and engaging.
Established in 1968 as a DOC of 18 hilly communes, the Verdicchio Classico, or Castelli di Jesi, region, is located some 35 kilometers inland from Ancona, an unusual wine region near the Adriatic coast where red grapes are grown close to the sea, and white grapes prefer to be slightly inland. The distinction of being "Classico" is a recognition that "this is what wine from this grape is meant to taste like!"
Wine history of the region dates back to the Romans and before, with some clay artifacts such as amphorae dating the region's wine production back to the Iron Age. These days, the verdicchios from the region have developed a consistent quality and tasting profile that sets them apart.
Economics of the Heart: Fairer Ferry Fares, cont'd

Drama continues to unfold on ferry fares. As we write tonight the County Council is meeting to discuss (and likely approve) a proposal from County Public Works to raise ferry fares significantly during the coming year. The draconian proposal first became public just two months ago. At our advisory committee meeting lasrt week I proposed the Council put a hold on the proposal until a number of serious questions about the necessity, advisability, and even the legality of the proposed increases could be reviewed and discussed. 
That proposal was soundly defeated after a spirited discussion had been abruptly cut off for a vote. The experience was disappointing but also painfully illuminating, making it perfectly clear once and for all that we (and perhaps even most County Advisory Committees…?) exist merely to be informed of County plans, to ask questions, and to make recommendations and suggestions— just as is every other citizen. But at the end of the day such committees have no political authority or influence. Such influence can only come from, metaphorically speaking, a large number of citizens wielding torches and pitchforks. That is, directly lobbying our elected Council members.

I suspect that lots of people figure this out early in life, while some of us spend decades tilting at the windmills of injustice like Don Quixote, outraged by the hypocrisy, heartened by belief in and longing for fairness, justice, and truth— you know, the futile quaintness of "principle."

At issue with the proposed fare increase is the actual meaning and intent of the state and county laws governing ferry rates. And ironically, while the current debate is clearly laid out in the way these laws are written, at this very moment the County is engaged in a project that has been ( I am not making this up!) used by the State Dept of Transportation as an example of a capital expenditure and why is it NOT an operations or maintenance expenditure.

Seriously, the reason ferry service for much of this and next week will end with the 9:20pm run (don't be late getting back from town or you will be stuck on the mainland!) is for major repair ($400,000) to one of the landing dolphins at the Island dock. Such repairs can be legally counted as "operating expenses" only to the extent that they add neither value nor longevity to the structure. If they do either, then those expenditures are by definition capital expenditures which yield service and depreciate in value over time and cannot legally be classified as either "operating expenses" or "repairs." On the contrary they are capital assets which cannot legally be charged against fare box revenues.
Sooo…stay tuned, this could get interesting…!
This Week's $10 Wine Tasting
Marchetti Verdicchio dei Castelli di Jesi Classico '21         Italy       $14
Verdicchio/ Malvasia blend using only free-run juice; pale straw color with green overtones; intense bouquet of citrus, lemon zest, and floral notes,with complex fruity character, and crisp, well-balanced palate.
Cala Civetta Sangiovese di Toscana '21      Italy     $13
Earthy nose of red plum accompanies a vibrant yet mildly tannic palate of tart cherry with a hint of smoke and ocean brine – a true expression of Scansano, nestled halfway between the Tyrrhenian Sea and Mt. Amiata.
Tre Donne D'Arc Langhe Rosso '18   Italy   $20
Blend of oak-aged Barbera, and Pinot Nero with unoaked Dolcetto and Freisa that makes for a lively, fresh wine with rich, moody fruit, bracing purity, and fascinating depth.
Hours this weekend: Open 3:30- 5:30 pm Friday Only

Our current plan is to be open Fridays only for the rest of January.
Covid is still around, more contagious than ever, but far less threatening for the vaccinated.
We all have our own comfort zones; these days we all have to manage the space around us in our own way.
Friday Bread is Back!

Four Seed Buttermilk – This bread includes all the elements of whole wheat, but does so separately by adding cracked wheat and bran in to the bread flour instead of milling whole wheat berries. It also has buttermilk and oil which will make for a tender bread as well as adding a little tang. Finally it is finished with with a bit of honey and sunflower pumpkin and sesame seeds and some toasted millet – $5/loaf
Fig Anise – One of the more popular breads in the rotation. Made with a sponge that is fermented overnight, then the final dough is mixed with bread flour and fresh milled whole wheat. Honey, dried figs and anise bring in all the flavors of the mediterranean. – $5/loaf
and pastry this week…
Fruit & Spice Rolls – Lightly sweet and half whole wheat but of course lots of butter, sugar and egg for flavor and a tender crumb. Dried cranberries, golden raisins, fresh orange peel and juice with hints of anise, cinnamon, mace and cardamon, and topped with demerara sugar before baking for that extra bit of sweetness and crunch.  – 2/$5
Wine of the Week: Cataclysm Chardonnay  '20        Washington       $14
Over the years we have enjoyed and carried several wines from long-established  Montinore winery in Oregon. It is one of only a few that is certified both biodynamic and organic, using practices and techniques that produce wines that are not only tasty, but also that sustain the vines and surrounding ecosystem with sound practices that maintain interdependent balance. The winery was established in 1982.
The Cataclysm Wine Company, on the other hand, is "brand" (snicker) new, with no history, no record, no details whatsoever about where exactly the wine was made, by whom, or where the fruit came from. There is, apparently, some financial relationship between the owners of Cataclysm and the long-time owners of Montinore. We suspect that Montinore made the wine, probably at its main facility in Forest Grove, Oregon, as part of some larger financial arrangement that has allowed Montinore to expand its operations to the point where you cannot reach an actual human being on any of their telephones. Ah, the oily wheels of corporate progress.
You can decide for yourself whether you like the wine or not, or care at all about its peculiar lack of a backstory. But for those of us that cherish handmade artisan wine from the hands and vineyards of a real person, it always feels like some kind of ethical betrayal. In any case, it is tasty and reasonably priced, and that's the customary Bottom Line!
Economics of the Heart: Deafness to Expediency

Recent events have recalled a favorite quotation we have mentioned before in this blog, feeling again the continuing relevance of a memorable ethical assertion some 150 years ago from Matthew Fontaine Maury (our first National Oceanographer):
"Where principle is involved, be deaf to expediency." 
While it is often claimed that "We are a Nation of Laws," over recent decades we have been losing the assurance  that our laws are both principled in purpose and enforced honorably, equitably, and fairly. Without Principle, laws become the means of tyrannical oppression by an autocratic minority or the whims of profit-driven corporations and continually campaigning politicians. When we look around our country and the World today we see lots of reasons to believe that these basic Principles have become quaint and archaic fantasies, wholly and purposefully replaced by vapid pragmatism and unconscious compromise.
We all still know what responsibility, decency, honor, service, and kindness are, at least intellectually. But we find all kinds of reasons to minimize their importance and dismiss them as too idealistic, too much trouble, making too many waves, or threatening our own comfortable position by rocking the Boat of the Moment. We all have a lot of ambiguity about these matters, a little compromise here, a little pooh-pooh there, adding up to an ongoing willingness to back Authority, not buck it.
On my first day as a midshipman nearly sixty years ago, I remember being advised, "Don't Rock the Boat," and "Don't Make Waves." But alas, in all these years I have not been able to become that guy, because I actually believe to my core that Principle IS more important than Expediency, and that we all live in a world that has increasingly become ruled by "Getting along means Going along." 
As with Covid, we all have to find our own ways to deal with this ongoing dilemma. We serve on our Boards and Committees in which we nominally share a common interest, and it can be deeply frustrating to keep crashing into the impassive wall of safe and passive conformity, itself the thoughtless cause of considerable suffering

Our photo today is a line–  more of a mantra, actually–  that Timothy Leary used as a theme on a speaking tour of college campuses (including WWU around 1980. )
This Week's $10 Wine Tasting
Cataclysm Chardonnay '20        Washington       $14    
Aromas of quince, pear, and custard; pleasing mouthfeel, easy to drink. Made with Washington fruit at an undisclosed location by undisclosed people in some kind of financial relationship with Montinore Estate in Oregon.
Robert Ramsay Mason's Red '16   Washington  $17
Easy-drinking cinsault-dominant Rhone blend; subtle nose of black cherry paste with a hint of cinnamon spice that expands on the palate to a soft anise finish.
Can Blau Can Blau '18     Spain     $16
Long an Artisan favorite; consistently shows aromas and flavors of ripe dark fruits and berries, a seamless texture, and long, silky finish that improves with aeration.
SORRY, CLOSED THIS WEEKEND!

Every year at this time we close the shop for a bit to do a modest amount of actual "accounting," beginning of course with end of year inventory. It's a tedious affair, but grounding in its quiet drudgery. It has been made easier for having whittled away much of our inventory  (hence the increasingly bare shelves) during our collectively strange social behavior these last three years, and to some degree the task does demand a bit of quiet attention, which is always soothing.
Beginning next weekend (1/13), Friday Bread Delivery returns after the Holiday hiatus. Those on the Bread List should receive details on Sunday by email.
Also beginning next weekend the wine shop will be open Fridays only from 3:30 – 5:30 through January.
SIGNS OF THE SEASON
Not much else to say this week except to wish us all a kind, friendly, year of creature comforts, soothing exhalations, warm friendships, and a global standing down from the countless brinks of disaster our species keeps taking us toward. Goodness gracious, Enough Already!