Hours this weekend: Open 3:30- 5:30 pm both Friday and Saturday

We are happy to report that we are now testing negative for Covid and feeling much better. All in all, we are thankful to have had mild cases and to be on the mend, thanks in large part to the effectiveness of the Omega booster. For your safety and peace of mind we plan to be masked up in the wine shop this weekend.

ALSO… please note above the slight change to new Winter hours!
No Friday Bread Pickup This Week!

Please note there will be no bread pickup this week. If you are on the bread list you will receive an email on Sunday with selections for next weekend.
To get on the bread order list, click on the "Contact Us" link above and fill out the form. Each week's bread menu is sent to the list each Sunday, for ordering by Tuesday, for pickup on Friday. Simple, right..? If you will be visiting the island and would like to order bread for your visit, at least a week's notice is recommended for pickup the following Friday.
Wine of the Week: Greywacke Pinot Noir '18 New Zealand $30
Most simply, greywacke is a type of sandstone with a lot of rock grain and fragments in it, kind of a lumpy batter that set up before it was completely stirred. It is believed to have formed by mudslides along a continental shelf. Greywacke is made up of dull-colored sandy rocks that are mostly grey, brown, yellow, or black which can occur in thick or thin beds, and which bear some similarity to local formations of "Chuckanut sandstone" that we see on our own shores here on Lummi Island and around the San Juan Islands.
Last year we learned that many of the formations at the Aiston Preserve (recently acquired for restoration and preservation by the Lummi Island Heritage Trust) and much of the southern half of Lummi Island contain significant deposits of greywacke. These formations are about 150 million years old, and overlay basalt and chert from an even more ancient sea floor.
Greywacke is also a major part of the geological structure of New Zealand, and just a couple of years ago we learned there is a NZ winery of the same name. We have been stocking their sauvignon blanc and pinot noir for a couple of years now, and so far it has been universally satisfying. The rocky soil gives the wines a complex minerality with aromas and flavors of dark fruit and nuances of cedar, earth, and smoke.
Winemaker Kevin Judd was the longtime winemaker at the consistently highly regarded Cloudy Bay winery before starting his own winery at Greywacke in 2008. It's good! (read more)
Economics of the Heart: Will Majorities Actually Matter Again?

In one of today's posts, opinion writer Jennifer Rubin put out a thoughtful and encouraging take on the recent national election. In particular, voter turnout and election outcomes across the country suggest that Republicans have lost control of at least some of their key constituencies. While the MAGA base of less-educated, white, evangelical, Christian, rural, and older voters (along with their other base of self-serving bazillionaires…) still forms the core of Republican support, it is clear that that base is shrinking over time.
Rubin points to this week's example of nearly a dozen Republican Senators who voted in favor of the Respect for Marriage Act. Though fully two thirds of their caucus voted against it, one third actually voted for it for a surprising bit of vanishingly rare aisle-crossing. Across the nation some 70% of voters support the Act, suggesting the (we can only hope) possibility that Republicans are facing a long-term uphill battle against a growing population of young voters, "especially millennials and Generation Z voters who will soon dominate the electorate."

For the last fifteen years the Republican operational plan for maintaining political power with a declining base has been twofold. Part 1 was gaining control of rural state legislatures before the 2010 Census and effectively using blatantly partisan gerrymandering to increase the number of "safely Republican seats" in their states' Congressional districts. Despite being cynical, anti-American, and mean-spirited, the tactic was enormously successful. Part 2 over the past ten years has been to fire up the base with a vast, 24/7 right-wing media bombardment to stoke their fears and prejudices about race, gender ambiguity, and every nation's obligation to provide refuge from the ever-increasing number of toxic regimes and failing economies around the world.  All in all Republicans have been very effective at setting up the conditions for their minority rule across the Red states, and most Congressional Republicans are still all in to eliminate fair elections.

This picture is nicely summarized in a quotation from Robert P. Jones, head of the Public Religion Research Institute about the Dobbs decision: "it is part of a gambit to hold onto a particular conservative vision of white Christian America and impose it upon a more religiously and racially diverse nation that is increasingly supportive of a set of rights grounded in a constitutional right to privacy."
Rubin's encouraging main point is that yes, we can see most Republican leaders still pretty much All In with their long-term commitment to keep changing the rules at both state and national levels to their advantage. At the same time, however, as suggested by the recent election results, long-term demographic trends are not in their favor. The recent election pleasantly surprised us with the thoughtfulness of voters around the country. That result, along with growing evidence that younger voters generally lean toward inclusion and fairness, are causes for a bit of hope that we might once again become a nation of, by, and for the People.
This Week's $10 Wine Tasting
Domaine de l'Amauve La Daurèle, Côtes du Rhône Villages Séguret '20    France    $17
Grenache blanc, clairette, viognier, & ugni blanc; expressive nose of white fruits, Mirabelle plum, and acacia honey; soft on the palate with lively citrus flavors…delicious and very Food Versatile!
Chateau Auzias Cabardes   '18        France     $12
60% Cabernet Franc, 30% Syrah, 10% Grenache. Enticing aromas of  black raspberry and mulberry that showcase the Cabardes appellation where both Rhone and Bordeaux varietals may be grown. Fine-grained tannins and lacy, billowing acidity carry that raspberry/mulberry fruit all the way to a fresh, graceful finish.
Greywacke Pinot Noir '18     New Zealand    $30
Delicious aromas of juicy blackberries, blueberries and strawberry jam, with suggestions of black olives, cedar and a hint of lavender. Finely structured palate shows red and black fruit with earthy, smoky nuances.
Covid Update

I am now around Day 10 of Covid, and have been feeling "almost" normal. Pat is in about Day 5, and feeling about the same. It is interesting to note that our symptom patterns have been quite different. I hit a temp of 102 for a day or so early on, and she did not. Mine has definitely been very much in my chest, hers not at all. Both of us have had less energy and gotten tired more easily. But all in all, it is our understanding that Omicron, while very easily transmitted, produces milder symptoms than some of the early, more virulent variants. So it's been a long haul, but hopefully our herd is reaching some kind of equilibrium with the virus.

This Week's Schedule:
PLEASE NOTE: The wine shop will NOT BE OPEN for tasting THIS weekend (Nov 25-26), but WILL be open as usual NEXT Friday and Saturday (Dec 2-3 a little bit earlier because of the waning daylight: 3:30 – 5:30 pm.)
Also…there will again be No Bread pickup next weekend (Dec 2), but there will be bread again the following weekend, Dec 9-10. Look for an email from Janice a week from Sunday (Dec 4) with details.
Thanksgiving Wishes
There is a lot to be thankful for this year… and a lot of work to do to keep our planet supporting eight billion of us without killing it.

On the plus side, the recent election results have generated a collective exhalation of relief from the numerous elements of moderation that were evident in the results, with a broad public rejection of election denialism and extremism.
Still, we need to keep our fingers crossed and keep working to reestablish effective dialogue and comity in our national and state legislatures, and our society as a whole needs to find ways to inoculate our media platforms against the deliberate deceit which has become such a divisive fixture across the internet.

And of course we are grateful to be finally emerging from the siege of Covid and for the increasing signs of  global progress against climate change we are beginning to see across the globe. We also press our palms together and bow to all of you who have been part of our wine shop community during the past year. It's your ongoing warmth and conviviality that keep this place going!
Covid Update

Well, I am now into Day 4 of Covid, and all things considered, it's pretty much like the last time I had the flu many years ago; there has been a definite progression of symptoms and temperature. Definitely achy, with that weird shingles-like scalp tingle when you touch your hair. No energy. Fever started second day at about 99, up to 102 yesterday, back to 99-ish today. Coughing, sneezing, fatigue. So yes even what looks like a mild case (I hope!) still sucks.
 So, in case you might be wondering, the wine shop will NOT BE OPEN this weekend, except for bread pickup Friday. (see below).
Friday Bread Pickup This Week  4-5:30 pm

Cranberry Walnut – Made with a nice mix of bread flour and freshly milled buckwheat and whole wheat flours. Orange juice and olive oil are a unique combination in this bread that add flavor and keep a soft crumb, then loaded up with dried cranberries and toasted walnuts. Perfect for turkey sandwiches and makes great toast- $5/loaf
Sesame Semolina – this bread uses a sponge as a pre-ferment that ferments some of the flour, water & yeast before mixing the final dough. Made with semolina and bread flour as well as a soaker of cornmeal, millet and sesame seeds, a little olive oil rounds out the flavor and tenderizes the crumb. The finished dough is rolled in more sesame seeds before baking. A bread with a lot of great flavors – $5/loaf
mmm, and pastry this week…
Black Sesame & Candied Lemon Brioche – A delicious brioche dough full of eggs, butter and sugar. Filled with fresh lemon zest and candied lemon and as if that wasn't enough, topped with a black sesame streusel before baking. Ooh la la, what's not to like?
To get on the bread order list, click on the "Contact Us" link above and fill out the form. Each week's bread menu is sent to the list each Sunday, for ordering by Tuesday, for pickup on Friday. Simple, right..? If you will be visiting the island and would like to order bread for your visit, at least a week's notice is recommended for pickup the following Friday.
Economics of the Heart: Hats Off to American Voters!

The news and survey poll mantra for the last several months led us to believe and fear the worst kind of Ultra-Right takeover of Congress in last week's election. So it was a huge relief to a lot of us that moderation, sober reflection, the Hearings, and of course the recent Ultra-Right Catholic Supreme Court Decisions led a lot of voters to turn away from election denial and give a solid message in favor of moderation.
We shall see how things roll. But it does feel that an oppressive weight has been lifted from our body politic, that there is at least a shot at moving Congress away from the carnival side show it has become under its massively egotistical and entitled so-called Freedom Caucus.
The signs we will be looking for are legislators working across party lines (yes, a tattered cliche, but missing in action since about 1994), an end to MAGA madness, a more deliberative Congress, a shared commitment to the spirit of our Constitution and a return to our real traditional values.
URGENT COVID NOTICE PLEASE READ!!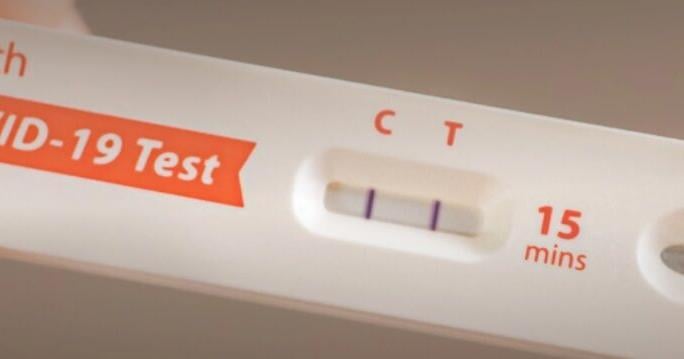 This is to let all of you who might have been in the wine shop this past Friday or Saturday know that I (Rich) have just tested positive for COVID.  🙁
I felt a little off Monday night and had various cold symptoms this morning, so took a Covid test and was relieved to find it was negative.
Through the day I have maintained a sore throat, headache, and other cold symptoms, so tonight took another test and it immediately showed Positive. ( …expletives deleted…) Pat has so far shown no symptoms and is testing negative.
Some of you regulars were in the shop on Friday night, and a pretty good crowd of visitors was in on Saturday. If you were at the wine shop at all this weekend it would be a good idea for you to take a COVID test, as some of you might have been exposed to it at the shop over the weekend.
Chances are we will not be open this weekend, and will post updates as we learn more. Btw, we have had all our shots and boosters, so fingers crossed it will be a mild case.
Stay tuned and stay well!
Rich