Current Hours: Friday & Saturday 4-6pm
We are still operating under reduced hours 4-6pm Friday and Saturday for wine tasting and sales. Covid vaccinations are required for admission upstairs in the tasting room, but unvaccinated guests are welcome to enjoy wine tasting outside on our entry deck.
The weather looks clear through the weekend, with sunshine and moderate summer temperatures predicted.

Bread This Week

Levain w/ Dried Cherries and Pecans – A levain is started the night before final mixing of the dough using a sourdough starter to trigger the fermentation process and start developing the gluten. The final dough is made with the levain, bread flour and fresh milled whole wheat, then loaded with dried cherries and toasted pecans. A nice rustic loaf that goes well with meats and cheese.– $5/loaf
Pan de Cioccolate – A delicious chocolate artisan bread without lots of eggs, butter and sugar. Rather this is a rich chocolate bread made with a levain, bread flour, fresh milled rye flour, honey, vanilla and plenty of dark chocolate. Makes fabulous French toast! – $5/loaf
and pastry this week…
Individual Cinnamon Rolls – Made with a rich sweet roll dough of eggs, butter and sugar. The dough is rolled out, spread with pastry cream and sprinkled with cinnamon sugar, then rolled up and sliced into individual rolls for baking and topped off with a cream cheese glaze. – 2/$5.
Wine of the Week: Willamette Valley Vineyards Whole Cluster Pinot Noir '20       Oregon   $20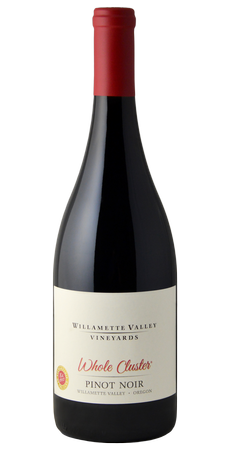 Notes: Made from hand-picked whole clusters fermented in chilled stainless vats; nose opens with aromas of blackberry, cherry, and raspberry accented by subtle spice and vanilla. Palate is rich and crisp, leading to juicy flavors that mirror aromas plus hints of dark chocolate and mocha that flow into a soft, round, balanced finish.
Willamette Valley Vineyards was founded in 1983 by Jim Bernau near Salem, Oregon. It has acquired numerous area vineyards over the years through mergers with other growers. Each vineyard harvest is separately fermented, with the best going to single vineyard bottlings to showcase the best fruit characteristics of each site, with attention to depth, richness of mouthfeel and balance.
The basic story is that Jim's father, a lawyer in Roseburg, Oregon in the sixties, was approached by recent UC Davis Graduate Richard Sommer about navigating around the outdated Oregon laws against winemaking left over from Prohibition. Jim, btw, made his first wine at age ten from frozen grape juice, and just stayed with it.
Here's a short video on the winery's history.
Those of you who frequent our shop will recall that in the last couple of years we have carried several wines under the label of "Oregon Solidarity." In late September of 2018 a California winery owned by wine mogul Joe Wagner abruptly cancelled its long-standing $4 million order for Oregon fruit. Left in a deep lurch, growers turned to Oregon wineries King Estate and WVV for help.
Together with two smaller wineries (Silvan Ridge and Eyrie), they bought the entire harvest of pinot noir and chardonnay and turned them into three wines under the "Oregon Solidarity" label: a rosé, a chardonnay, and a pinot noir. We have carried them all, and many of you have bought and enjoyed them. So our hats have been off to all of the wineries that participated in this hastily organized community project!
Today's whole cluster pinot noir is a blend of fruit from several WVV vineyards which was not selected for any of the single-vineyard wines.
The Economics of the Heart: In Praise of Biden-omics

In a recent speech, President Biden gave just about the best definition of economics we have seen in a very long time:
'Now, look, I'm a proud Capitalist. I spent most of my career representing the Corporate State of Delaware. I know America can't succeed unless American business succeeds…But let me be very clear: Capitalism without competition isn't Capitalism; it's Exploitation. Without healthy competition, big players can charge whatever they want and treat you however they want. And for too many Americans, that means accepting a bad deal for things you can't go without.'
There is a great deal of public confusion about Economics. Much of that confusion has been sown, fertilized, and plowed into the American psyche by many decades of misleading political manipulation. At its simplest level, as we have mentioned before, the "economy" is a parlor game where everyone who buys or sells anything has a seat at the table. When any exchange takes place, goods and services are exchanged for credit (let's call it "money"). The "economic" assumption here is that rational people will only make exchanges that make them feel better off. And to the extent that all economic actors are rational, economic theory tells us that all willing parties to a trade will feel better off after the trade than before.
This is the logic behind the myth that free markets make everyone better off. The fact is that in the Real World there are consistent economic winners and losers. Why?  Because every real-world exchange deviates in some way from the long list of very restrictive assumptions that must hold true for an exchange market to be "perfectly competitive." These include missing conditions like perfect information, large numbers of buyers and sellers for any product or service, no spillover effects (like pollution, noise, or nuisance), any many, many more. The best examples of Real competitive markets are public markets with many vendors for any particular product or service.
So when Mr. BIden says "Capitalism without competition isn't Capitalism; it's Exploitation, he is completely aligned with the writing of classical economist Adam Smith, who wrote, in The Wealth of Nations in 1776 : "No society can surely be flourishing and happy, of which the far greater part of the members are poor and miserable. It is but equity, besides, that they who feed, cloath and lodge the whole body of the people, should have such a share of the produce of their own labour as to be themselves tolerably well fed, cloathed and lodged."
Even iconic Conservative economist Milton Friedman, who spent a lifetime extolling the virtues of competition and the dangers of regulation, also recognized the failure of markets to assure either livable incomes or equitable outcomes. He was a long-time advocate of a negative income tax as a means of adding an element of fairness to an economic system fraught with unequal starting positions, unequal opportunities, and unequal and unacceptable economic outcomes.
Republicans have been paying lip service to the sanctity of "the Free Market" since Reagan used it as a justification for throwing the poorest, neediest, and sickest of us Under the Bus in the name of Freedom. As we now see clearly every day, the Republican Wet Dream Economy elevates the wealthiest, diminishes the poorest, and punishes the weakest, all while destroying our fragile Planet with their Astonishing Environmental Ignorance and breathtaking Hubris.
This week's $5 tasting:
La Vielle Ferme Rosé '20    France    $10
Classic and tasty blend of grenache, syrah, and cinsault from northern Provence;  fruity, dry, crisp, delicious, and smooth, and at a bargain price!
2020 Charles Krug Napa Valley Sauvignon Blanc   Napa      $15
Cold-soaked before pressing and cold-fermented on the skins to develop rich and nuanced aromas and flavors of grassy lime, tropical fruits, and lychee, with a crisp, lingering finish.
Willamette Valley Vineyards Whole Cluster Pinot Noir '20    Oregon   $20
Hand-picked whole clusters are fermented in chilled stainless vats; opens with aromas of blackberry, cherry, and raspberry accented by subtle spice and vanilla. Palate is rich and mouth-coating, leading to juicy flavors that mirror aromas with the addition of dark chocolate and mocha that flow into a soft, round, balanced finish.
If you enjoyed this post, please consider to leave a comment or subscribe to the feed and get future articles delivered to your feed reader.
Leave Comment
You must be logged in to post a comment.