(note: some photos will enlarge when clicked)
Bread this week
Whole Wheat Levain – This particular dough is made with levain and bread flour and about 25% fresh milled whole wheat. I like to say it has a 'toothy' crumb, it has great texture and flavor and a nice crisp crust. A nice artisan loaf that is a great all around bread – $5/loaf
Pear Buckwheat – the preferment here is a poolish, made with bread flour, a bit of yeast and fermented overnight. Mixed the next day with bread flour and fresh milled buckwheat. The addition of toasted walnuts and dried pears soaked in white wine makes for a really flavorful bread – $5/loaf
And for pastry this week…ooh la la)
Chocolate Croissants – Croissants are made by mixing a dough with a bit of sugar and butter and then laminating the dough with even more butter and, in this case, rolling it out and filling with dark chocolate. The end result is a delicious flaky pastry with rich dark chocolate. – 2/$5
Reality Check

Despite the Relentless Coverage of Every Tweeted Syllable, Every Tweeting Day in our present Alternative Reality, precious little has been said about the Alternate Alternative Reality we were Hijacked from last November. While lots of Pols emphasize Over and Over that Oh, No, No, No, Monsieur, Russians Did Not Tamper with our Precious Voting in the last election, it has been widely implied but rarely discussed that there was a substantial  Russian effort to discredit Candidate Clinton, and that it was Successful Enough to have turned Wisconsin, Michigan and Pennsylvania for Trump.
About a year ago I posted  that I had become Increasingly Puzzled by the Hateful Rhetoric aimed at Hillary Clinton, especially by those who have long professed to be Progressives. Fast forward to what is generally referred to as "Now" here in Liberal Purgatory, and it is as good a time as any to reflect on What Exactly was Wrought under the guise of "Free and Fair" Elections. The required Reading Assignment for this Reflection can be found here on Daily Kos, and raises dozens of questions framed as "Would Hillary Clinton have Done This: (see list)."  The Surprising Takeaway from scrolling down this long list of things we can be Sure she would Not have Done is the Sudden Realization of How Much we have lost as a Nation from the Russian Interference. While scholars may quibble about what behaviors rise to the level of being Presidential, a glance at this list will grab you in the Gut. OMD, you'll think, how can we all keep pretending This is Normal?
More On Tides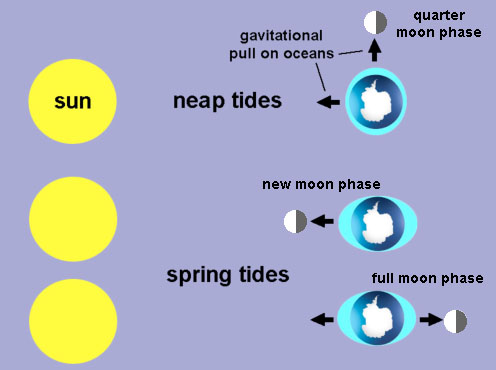 This weekend the moon is at First Quarter. That means it is halfway between New and Full. When the Sun is overhead (aka "Noon") the Moon is just rising over the Eastern horizon, and the tide is therefore High. This is not because the Sun is overhead. Rather it is because the Moon is just rising in the East, and the Tide is six hours behind the Moon. You could think of the High Tide as a kind of a Wave, or Bulge of Water trying to get to the Moon. Think of the Moon as a Magnet, and the oceans as piles of iron filings, and though the magnet is not nearly strong enough to pull the filings across space, it is strong enough to pull a Ripple of filings behind it.
Tides at the First and Third Quarter are called Neap Tides, when he difference between High and Low tides approaches a monthly minimum. When the Moon is Full or New, Moon and Sun pull along one axis, making for the Month's Highest High Tides and Lowest Low Tides. Right now, while the Moon is at First Quarter, look for smaller differences between High and Low tides, with High Tides at Noon and Midnight, and Low Tides at morning and evening.
So this is a Takeaway: when the Moon is Full or New, tides are Low at Noon and Midnight, and High at morning and evening. When the Moon is at First or Third Quarter, Tides are High at Noon and Midnight and Low at morning and evening.
Dreamtime Update

Dreamtime has been in the water for two months now; didn't get nearly enough necessary work done at her temporary slip in Bellingham. But it has definitely felt Summery the last week or two, and tomorrow we sail  her out to the Island for the Summer on a secure mooring.
Here's hoping for an uneventful crossing!
This week's  wine tasting
Domaine Girard Chardonnay '14   France $13
Medium- bodied with fleshy notes of fresh-picked apples and pears; no oak, but spends time on the lees to give it richness; clay soils at a higher elevation impart a delightful freshness.
Borsao Rose '15 Spain $9
Spicy aromas and flavors of ripe red berries, orange, and pungent flowers; nicely concentrated and supple,gaining weight with air, picking up bitter cherry and melon notes and a lingering red fruit liqueur quality.
Spindrift Pinot Noir '14   Oregon   $16
Aromas of red fruit, cherry, earthy and toasty notes. Big cherry flavors with some oak, sweet tannins, bright acidity and lingering finish.
La Mijane Arpege '13    France    $14
Oceanic influences  create an alternation of warm sun and cool breezes, which develop complex, original and balanced wines.

Celler Can Blau Can Blau '14         Spain      91pts    $15
Aromas of ripe black and blue fruit with smoky mineral and licorice notes; Seamless texture, with sweet boysenberry, floral pastille and snappy spiciness. Finishes silky and long, with a sneaky tannic grip.
If you enjoyed this post, please consider to leave a comment or subscribe to the feed and get future articles delivered to your feed reader.