THE NEXT "ART OF WINE"  Workshop is THIS SUNDAY!
The Art of Wine in Spain  
Take a tipple of aged, dry Sherry while you indulge in the sensuous imagery of Garcia Lorca and the engaging symmetry of Picasso…taste the nuances of a rich red Rioja as the ethereal notes of Ravel tickle your ears… pair Cervantes' Don Quixote with the outlandish scenarios of Almodovar and a plump, juicy Monastrell from Jumilla…indulge and learn!.
See flyer for details about each workshop, and call soon to reserve your place! Call now… Ryan: 758-2020
FRIDAY NIGHT    FRIDAY NIGHT      FRIDAY NIGHT
We continue to be open Friday evenings from 4-7. For $5 you get generous tastes of a couple of particularly nice wines and a tasty plate of crackers, cheese, olives, and charcuterie to help take the edge off after a hard week. We like Fridays because we get to sit on the other side of the bar and schmooze with all of you while Ryan does the hosting and pouring. It's our little Friday night salon. Let your hair down, come on by on the way home, and stock up for the coming week!
Avignonesi     Avignonesi     Avignonesi    Avignonesi
When we were in Italy in 2010 we made a journey east of Montelpulciano into the dramatic rolling hills that define the region. The Avignonesi winery is set on top of a ridge in an old monastery; the entry drive along the top of the ridge goes through a long double row of thick, old cypress trees that have been here for a LONG time. We were originally drawn here after learning that the winery used the ancient settonce system, in which every wine is the center of a hexagon of vines planted in all directions and trained by the alberello method. With no wires between the vines, people and equipment can traverse the vineyard in many directions not possible with the strict rows of the cordon method.
So of course we were delighted to find a lovely (and inexpensive!) wine from Avignonesi to offer for tasting this weekend. It is something of a "super-tuscan," a blend of sangiovese ("blood of Jove"), cabernet sauvignon, and merlot. We had a case around for the last week or two that has somehow disappeared, and another few just coming in. This is a spectacularly under-rated wine for its modest price of $14.
This weekend's wines: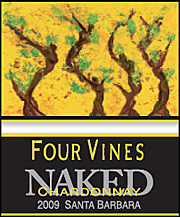 Four Vines Naked Chardonnay   09     California    
"Naked" means "no oak" on this wine, which offers a strong Sauvignon-like citrus edge, with notes of lime and lemon. Medium- to full-bodied, clean and refreshing– an old favorite here, though it's been awhile since we carried it…
(Also, you might notice that the usual 4Vines label is altered slightly to give the vines a little more, um, personality…)
Casillero del Diablo Carmenère '10 Chile $9
Forward and direct, showing a range of sour cherry, red licorice and damson plum notes liberally laced with toasty vanilla.
Familongue "Le Carignan" '09 France $12
A hit at Ryan's recent "Art of Wine in France" tasting, this lovely old vines carignan has brambly dark fruit, a soft palate, and great depth of flavor.
Avignonesi Rosso '08 Italy $14
Primary aromas of raspberry, cherry cola and sweet spices. Juicy, pure red berry flavors are complicated by tobacco and earth notes with addictive fruity appeal. Finishes medium long and gentle.
If you enjoyed this post, please consider to leave a comment or subscribe to the feed and get future articles delivered to your feed reader.