(clicking on some photos will open larger versions)
Bread Friday (sign up for preorder list! )
(For you newcomers,Janice H brings fresh bread to the wine shop shortly after 4pm each Friday, including samples for the Faithful!)

Kamut Levain – khorasan wheat is an ancient Egyptian grain with lovely golden wheat berries with a nutty flavor, and leavened with natural starter. – $5/loaf
Walnut Raisin Levain- 30% fresh milled whole wheat and rye with toasted walnuts and dark raisins . – $5/loaf
Sourdough Croissants– Plain or chocolate, with crispy crust and tender interior, a la Paris. – 2 for $5
You Make Me Feel That Spring Has Sprung…!
Maybe it's the light, or the Sun angle. Maybe it's the deep blue Spring Sky. Maybe it's the blossoms. Or maybe it's the cool mornings and radiant, warming afternoons.
Whatever it is, it is delightful and deeply nourishing. Even better, the Seers tell us we can look forward to several more days of it…!
Isn't this the Perfect Time to take that long exhalation that has been building up for the last six months…? Ahhhhhhhhhhhhhhhhhhhhh…….!
TPP: You Too Will Be Assimilated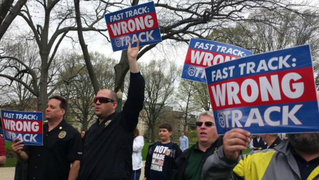 Every once in a while Something Urgent demands all of our attention, and it demands it Right Now. The something of the moment is called TPP. What you need to know right now is that it is not a battle between Right and Left; it is the Battle of the One Percent against Everyone and Everything Else. If you are on the Right, note that it will give corporations the right to control your life. If you are on the Left, note that it will give corporations the right to negate all of the environmental and labor gains you have made over the last fifty years.
It is the New and Improved NAFTA and WTO rolled into one. It has been written over the last five years by attorneys for the Very Rich. At its most basic level it takes authority from nation-states and gives it to a tribunal of three Corporate Lawyers (I am NOT making this up!), who will have the power to sue any member nation for any  potential corporate losses that might be caused by national laws (like environment, labor, free speech, health…you know, the things essential to human life and the survival of our planet).
Congress will decide on this issue within the next week or two without asking for public discussion.
Folks, this is, sadly, NOT a joke. First, learn more about the issue here. Second, contact all of your Congressional representatives and Senators immediately with your vehement opposition to TPP. Third, pass on this information to everyone in your social media circle immediately.
This Land is "Their" Land

As I went walking I saw a sign there
The sign was painted, said "Private Property"
But on the backside it didn't say nothin'
This land was made for you and me. — Woody Guthrie
Okay, I can understand that no one wants Intruders wandering through their yards, peeking in their windows, casing the joint for a robbery, whatever. It is harder to understand what the Big Deal is about undeveloped acreage that is just sitting out there, day after year after decade, undeveloped or not even developable at all, that causes people to litter their properties with "No Trespassing-Private Property" signs, such as this little grouping along Legoe Bay.
For those of you who don't live around here, in Washington State shorelines are mostly privately owned, making public access to the shore extraordinarily limited compared to other saltwater States such as Oregon, where public access is the rule. So, here on Lummi there is no public beach, no public boat launch, no public dock. Which is, let's face it, Bizarre.
Anyway, on our daily dog walk around Legoe Bay we pass a gauntlet of such signs, with no idea of who or what they are trying to protect from who or what threat. For your entertainment and contemplation, click on the photos to enlarge…Can You Find the "No Trespassing" sign in each photo…?
All Betz are off!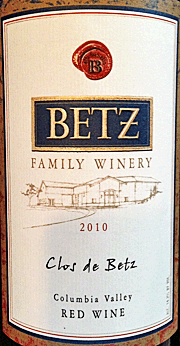 We continue to pour from our vast(!) library of Betz wines; this week we are pouring the 2012 Clos de Betz, the latest (and imho, possibly the best ever) effort in Bob's ongoing ode to Right Bank (mainly merlot) wines, or as he puts it: 'Merlot's dominance in the blend takes center stage on the mid-palate, with a deep, textural fullness.  It's the weight of this wine which impresses most, with a depth and breadth that envelop the palate and linger for a long finish. Vibrant black and red fruits abound, while Cabernet Sauvignon and Petit Verdot that complete the blend add anise, bay leaf and underbrush to the palate…Despite the attractive up-front development, don't be too hasty: a long cellar life awaits!"

Our Betz  special sale will continue until we have whittled down our inventory a bit:  10% on all Betz selections, PLUS we pay sales tax for wine club members!
See detailed tasting notes below.
This week's tasting

OS Riesling '12 Washington (92pts WE)     $11
Apple blossom and citrus aromas; broad, flavorful palate of quince, lemon custard, lime, and honey-tinged mineral notes; bracing acidity; should evolve further over time and age well thru 2034.
Chateau Fontanes Rosé'13 France $17
Redcurrant and strawberry aromas are accented by orange zest and cinnamon. Silky and broad in the mouth, offering juicy red fruit flavors and slow-building spiciness.
Olivares Monastrell Altos de la Hoya '11 Spain 91 pts $10
Black raspberry and cassis aromas, with spicy mineral and floral elements. Powerful dark fruit flavors with vanilla and cola nuances and juicy acidity; velvety texture, with lingering spiciness.
Writers Block Cab Franc '12 California $14
Complex aromas of fresh dark berries, black cherry, plum, and a subtle brambly profile. Tobacco, chocolate, and herbal flavors blend with a floral component and notes of toasted oak.
Betz Clos de Betz '12     Washington    93-95pts   $52
67% Merlot, 27% Cabernet Sauvignon- Aromas of blackcurrant, bitter chocolate, licorice and burnished oak. Perfectly integrated acidity energizing fine-grained flavors of black raspberry, black cherry, cocoa powder and violet, and a long,juicy finish.
If you enjoyed this post, please consider to leave a comment or subscribe to the feed and get future articles delivered to your feed reader.