click on photos for larger images
Friday Breads
Spelt Levain – Spelt is an ancient grain that is a wheat. It has a nutty, slightly sweet flavor and has gluten but it isn't as strong as the gluten in modern wheat. This bread is made with a levain, or sourdough, traditional bread flour as well as spelt flour, fresh milled whole spelt and fresh milled whole rye. – $5/loaf
Semolina w/ Fennel & Raisins – Another levain bread made with bread flour, semolina and some fresh milled whole wheat. A little butter for a tender crumb and fennel seeds and golden raisins round out the flavors. – $5/loaf
Gibassiers – A traditional french pastry made with a delicious sweet dough full of milk, butter, eggs and olive oil. The addition of orange flower water, candied orange peel and anise seed bring great flavor to these pastries. After baking they are brushed with melted butter and sprinkled with more sugar. Ooh La La a delightful pastry to go along with your morning coffee or tea. – 2/$5
(note: breads must be pre-ordered by Wednesday for pickup here at the wine shop at our Friday wine tasting, 4-6pm. Planning a visit to the Island? Email us to get on the mailing list!)
Susumaniello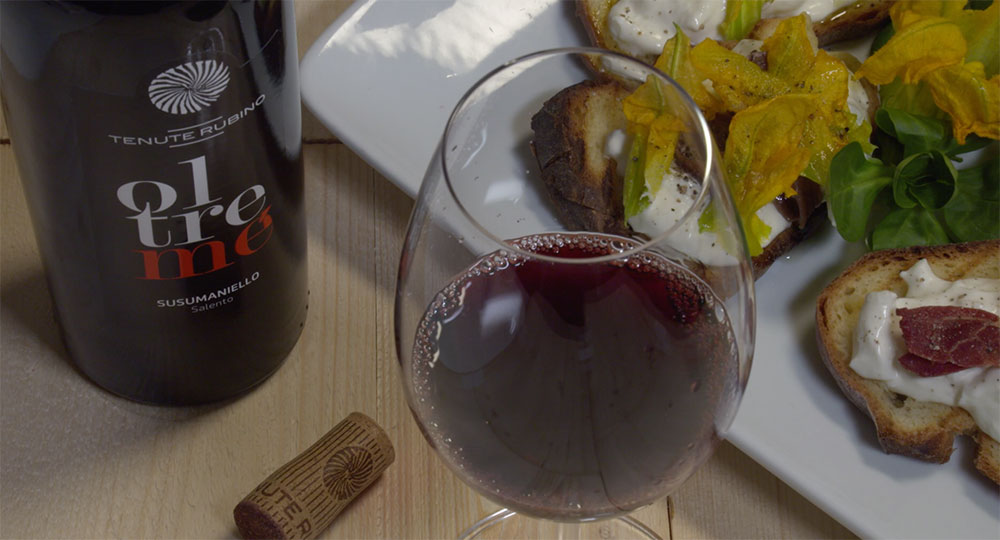 Susumaniello is an Italian wine grape found only in the Italian wine region of Puglia, which runs along the Adriatic coast from the Achilles tendon of the Boot of Italy to the heel. More familiar varietals from the region include primitivo, negro amaro, and red and black malvasia. The name of the grape refers to its high levels of production when the grapes are quite young. A black grape variety genetically related to garganega, it is named after its prolific production in its first ten harvests, after which productivity strongly decreases harvest by harvest, down to an average of less than one kilo per plant.
Despite this peculiarity, plantings of the grape have been increasing, beginning at Tenute Rubina winery in Brindisi, in 75yr-old vineyards incidentally purchased in the 1980's as part of a much larger vineyard acquisition. The goal is now to develop Susumaniello into the Flagship wine of Puglia. Helping that goal along, Rubino also runs a restaurant called Numero Primo, which offers instructions for the perfect food matches for the wine, both crostoni.
Constance's Art Show Continues

Last Sunday we held an opening reception for our new art show at the Gallery, featuring long-time Island yoga teacher and (as we now have learned) accomplished painter Constance Drake. The opening was very well attended and her work very well received. All use  oils on wood or canvas to develop complex textures and color ranges that evoke the many moods of the Pacific Northwest that we all recognize even if we have a hard time defining.
The show will run for only a few more weeks, through the month of August. Don't miss it!
Mar a Lago Update: El Paso vs. Tweetster

From one perspective it is a Puzzle how the Media decide which Mass Shootings to report and which not to report. However that works, it has become evident that there have been  248 Mass Shootings in the United States so far in 2019. That's averaging more than one per day. So why does it seem like Big News that on one day this week there were two mass shootings (Dayton and El Paso), when we have been seeing more than one a day for at least seven months? Why do some few enter and stay in the News Cycle for weeks while most go unmentioned?
However it has happened, it is a Shock to hear it as a Matter-of-Fact Fact. Like, Really? Every Fookin' Day a Mass Shooting and everyone just goes about their business?  How Did We Not Know This? 
Actually, besides the El Paso (Aug 3) and Dayton (Aug 4) shootings, there were four more mass shootings on Aug 4 (two in Chicago, one in Grenada MS, one in Memphis); two on Aug 5 (Brooklyn, NY and Suitland, MD); one in Detroit on Aug 6, and one in St. Louis on Aug 7. To summarize, in this country so far in 2019 we have had 248 mass shootings, with 246 people killed and 979 people wounded.
We all know the usual scenario: politicians wring their hands and mouth Sympathy for a few days until the News Cycle turns to something else, and nothing changes. Will it be Different this time? Well, it does feel different this time, doesn't it? We see a Unified El Paso standing up to the long Campaign of race baiting waged by the Tweetster since 2016. They have called him out on his racism. We know that some 90% of Americans favor background checks for anyone seeking to buy guns. It feels like we are on the threshold of something. But on the down side we know that Darth McConnell refuses to bring any Democratic bills before the Senate for a vote.
Oh, and by the way, a recent article on Political Polarization makes a strong argument that most of someone's political affiliations can be accurately predicted by knowing their race, religion, education, gender, and age. And that should make us wonder if our values determine our political affiliations, or, in this world of media and social media manipulation, it is the other way around.
Washington Post Tweetster Lie Count to date: 10,000 as of 5/1/19
This week's wine tasting

Argiolas Costamolino Vermentino '18      Italy     $14
Pale golden-tinged straw color; Botanical herbs and white stone fruit on the nose and palate, with good length and freshness, finishing clean and medium-long, pairing well with everything from salad to pasta to fish and even savory meat dishes.

Oregon Solidarity Pinot Noir Rose '18      Oregon      $16
When a California winery canceled huge contracts for pinot noir grapes two days before harvest, area wineries united to buy the fruit, make excellent wines and save the vintners' bacon. Chardonnay and pinot noir to follow soon.

Borsao Garnacha '17     Spain     $11
From 100-yr-old vines; heady, perfumed bouquet of ripe red and dark berries, incense and flowers; intense raspberry and cherry-cola flavors blending power, depth and finesse.
Tenute Rubino Oltremé Susumaniello '16       Italy      $14
Fresh, fragrant notes of cherries, pomegranate, raspberries and hints of ripe plum; fruity, minerally, and round on the palate with soft, pleasant tannins, a versatile and seductive pairing with richer dishes.
Shatter Grenache Vin de Pays des Côtes Catalanes '17      France    $19
From Old Vines in Roussillon's black schist soil; nose of dark fruit with a hint of espresso beans. Velvety texture with black currant, spice and cured meat flavors with a touch of coffee; firm structure, supple tannins with excellent acidity and overall balance.
If you enjoyed this post, please consider to leave a comment or subscribe to the feed and get future articles delivered to your feed reader.