(note: some photos will enlarge when clicked)
Friday Breads (email us to get on the preorder mailing list! )
Fig Anise – a first timer in the bread rotation but one that seems to have a lot of potential. Made with a sponge preferment before final mixing and then a long slow overnight fermentation in the fridge. Made with bread flour and fresh milled white whole wheat with plenty of honey, figs and anise seed for added flavor. – $5/loaf.
Poolish Ale – Made with an overnight poolish of some of the bread flour and instead of water an ale, because what is beer but liquid bread! The final dough is made with more bread flour and a freshly milled whole wheat. A great all around bread – $5/loaf.

and in the pastry dept…Rum Raisin Brioche!! – A perennial favorite, order early or lose out! 2/$5
Costières de Nîmes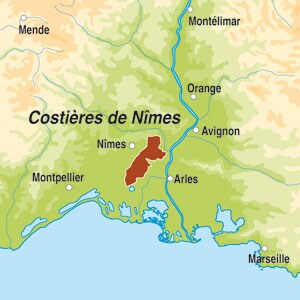 The Mediterranean coast of France covers four wine-growing appellations: Languedoc, Costieres de Nimes, Rhone, and Provence. The smallest region, Costieres de Nimes, shoehorns in between the Languedoc to the West and Southern Rhone to the East. In recent years the region has redefined itself as part of the larger Rhone region, arguing that its wines resemble more those of the Rhône valley than those of the Languedoc, which have a reputation as being a bit more rustic (which some of us find very appealing!)
Wine production in this region dates back to Roman times and their history includes centuries of Spanish and Moroccan influences. This weekend we are pouring a rosé from this region, made from 70% syrah and 30% grenache, which sits on the skins from 6 hours (syrah) to 16 hours (grenache), just enough to give it a touch of red. The bottom line here is that rosés from Costieres de Nimes have much of the same character as those from Southern Rhone to the northeast and those from Provence more directly to the east.
The basic takeway here is that Provence does not have a monopoly on making good dry French rosés; they can be found pretty much anywhere on the Mediterranean coast!
Ciao Thyme.
Instead of staying respectably home tonight and focusing on this blog entry, we spent the evening at "Ciao Thyme" for yet another "Incognito Dinner." Since it is late, and since each picture is worth So Many Words, a few photos will hopefully convey the spirit of the Event. Here's the menu, photos below.
And here is their website. This is not a regular restaurant (except for lunches.) You need to get on their mailing list for their periodic dinners, classes, and other great food events…!
This week's wine tasting

Bernier Chardonnay '14 France $10
Lemon, herbs and lees on the nose. Full-on minerality, with a touch of lemon curd. Driven, salty, refreshing; crisp, elegant, steely, mineral, and citrusy personality. Classic Old World style that will drink beautifully with light fish dishes, or served as an aperitif.

Grande Cassagne Rosé '15 France 89pts $10
Light, brilliant orange. Aromas of blood orange, raspberry, white flowers and garrigue; Juicy and focused on the palate, offering vibrant red berry and citrus flavors. Fleshy and smooth on the fruity persistent finish.
Garnacha de Fuego '14 Spain $9
As usual, loads of fruit with strawberry and black cherry notes intermixed with licorice and earth, and great purity and richness for this price point.
Milbrandt Brothers' Blend Washington $12
"Kitchen-sink" red blend; enticing aromas of fresh blueberry, cherry, plum and vanilla. The palate robust, yet supple, with generous flavors of dark berry, dense cocoa, vanilla and a hint of spice that is beautifully framed by polished tannins and a long finish.

Domaine Moulinier Les Sigillaires '07 France $15
Aged 12 months in neutral barrels. Nuanced notes of tapenade, dark fruits, and a fresh finish. Harvested quite early to retain acidity; nuanced palate with hints of orange and an elegant finish. We love this wine!
If you enjoyed this post, please consider to leave a comment or subscribe to the feed and get future articles delivered to your feed reader.