Hours this weekend: 4-6pm both Friday and Saturday

We continue to monitor Covid numbers around the County. There has been some rise in cases over recent weeks, so caution is still recommended. Showers are forecast for both days. Friday bread pickup is under the front awning on Friday, and for those who wish to stay outside for tasting on Saturday.
Last Saturday we did ask some folks to sit outside to limit crowding upstairs, and it seemed to work well for everyone.
Bread Pickup This Week
Breton – Made with pre-fermented dough in which a portion of the flour, water, salt & yeast are mixed and fermented overnight before preparing the final dough, which incorporates the flavors of the French Breton region by using  buckwheat and rye flour and sel gris -the grey sea salt from the region that brings more mineral flavors to this bread. Goes great with meats and cheeses – $5/loaf
Spelt Levain — Spelt is an ancient grain with a nutty, slightly sweet flavor; it has gluten but it isn't as strong as in modern wheat. This bread is made with a levain before the final dough is mixed with traditional bread flour, spelt flour, fresh milled whole spelt and rye. – $5/loaf
and mmm, pastry this week…
Kouign Aman: Made with the same traditional laminated french pastry used for croissants. Has both a little levain for the sourdough flavor as well as some pre-fermented dough to help build strength. When rolling out however, instead of using flour to prevent sticking, sugar is used. The dough is cut into squares and baked in cupcake tins where all that sugar and butter caramelizes and makes for delicious, crunchy, delightful pastry. Quantities are limited so get your order in early so you don't miss out – 2/$5
To get on the bread order list, click on the "Contact Us" link above and fill out the form. The week's bread menu is sent to the list each Sunday, for ordering by Tuesday, for pickup on Friday. Simple, right..? If you will be visiting the island and would like to order bread for your visit, at least a week's notice is recommended for pickup the following Friday.
Wine of the Week: Wine of the Week: Longship Lady Wolf Malbec '18 Washington $25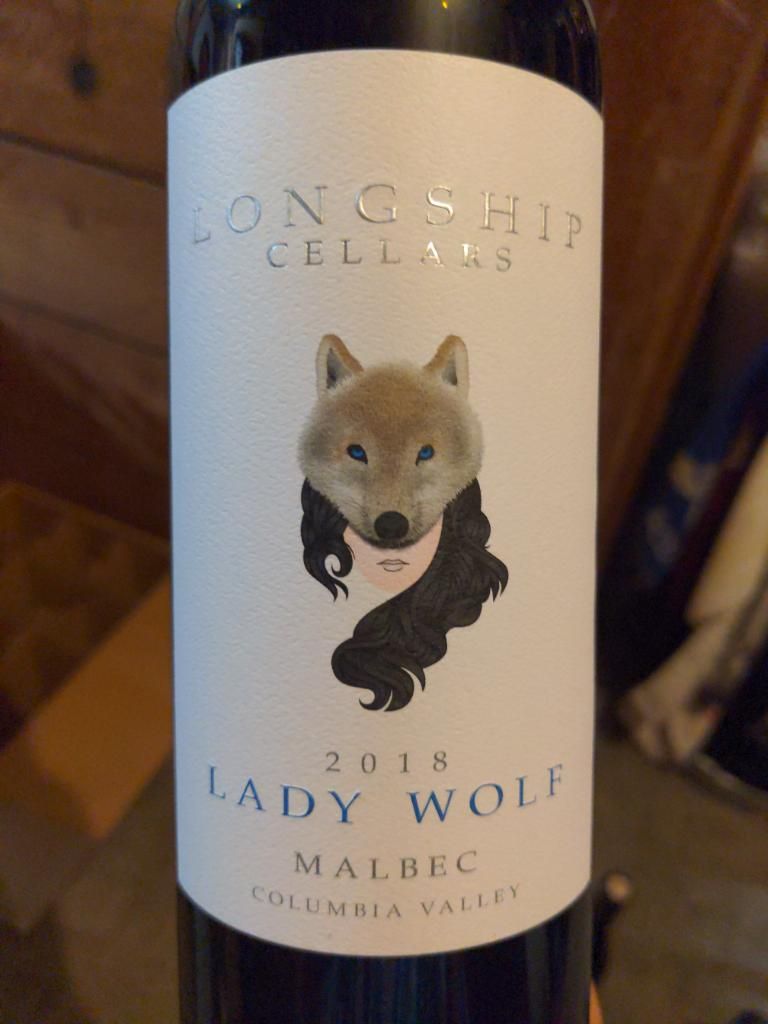 Longship is a fairly new family-owned winery in Richland, in the heart of Washington wine country. Established in 2013, it has focused on producing big, hand-crafted, barrel-aged, red varietals like tempranillo, malbec, syrah, cabernet sauvignon, with at least 60% proportion aged for 18 months in new oak barrels.
The name "Longship," and the adoption of the Viking Longship as the winery's logo is a nod to the family's Scandinavian heritage and the winery's ongoing journey to produce some of the finest wines in the Pacific Northwest.
The Richland tasting room was added at the end of 2016, not just to feature their wines, but also, as is the case here at the Wine Gallery, to create a social space where friends can gather to relax in a convivial environment while sharing delicious handcrafted wine.
We took an immediate liking to the wine when we first tasted it last year. Chances are you will, too!
This Week's $5 Tasting
Chapoutier Belleruche Blanc  '20    France    $14
Delicious blend of grenache blanc and roussanne; fragrant and perfumed with a light, grilled-lemon note over ripe melon with a lingering palate of rich white peach.
FontanaFredda Briccotondo Piemonte Barbera '18      Italy   $15
Nose of blackberries and plums, with hints of black pepper and cinnamon. Crisp and fresh on the palate with  sweet, soft tannins,  silky texture, and great fruit character.
Longship Lady Wolf Malbec '18      Washington    $25
100 % malbec; unfolds with dark, enchanting notes of blackberry, grilled plum, and jammy raspberry with accents of orange peel, vanilla, and tobacco spice, finishing with balanced structure, plush texture, and a lengthy finish.
The Economics of the Heart: The Alphabet vs. the Goddess

Some years ago we read a fascinating book by surgeon Leonard Shlain. His basic and well-researched hypothesis was that the introduction of reading and writing into human society millennia ago actually changed the way that human beings thought. In particular, he suggested that before widespread literacy, most cultures were tribal, holistic, and intuitive– perhaps what we today might call "right-brained." So "goddess" is a metaphor for a particular world view that honored the holism of the natural world.
In contrast, Shlain argued that the cultures of the Israelites, Greeks, Christians, and Muslims, transmitted as written texts and ideas rather than sensory experience, turned human culture toward linear, dualistic thinking. Those, he argued, narrowed the holistic perception of our own experience and concentrated power in the "educated" men who claimed authority to interpret these "laws."
The everyday miracles of existence took a back seat in "civilized" culture to complex rules that put power in the hands of a small number of the self-anointed priests and shamans, mostly men. And these fundamental cultural changes– the Alphabet– changed Everything about human social organization, including gender roles. As a result, women's roles have borne a burden of subservience which has resisted change for millennia.

This all came to mind a few days ago when a dear friend (a woman) sent us the following note written by an unidentified young man. It captures in simple terms the glaring gender inequities in our country and across most of the world that disproportionately concentrate power in Patriarchal Authority.

"How about we treat every young man who wants to buy a gun like every woman who wants to get an abortion – mandatory 48 HR waiting period, parental permission, a note from his doctor proving he understands what he's about to do, a video he has to watch about the effects of gun violence, and an ultrasound wand up the ass (just because). Let's close down all but one gun shop in every state and make him travel hundreds of miles, take time off work, and stay overnight in a strange town to get a gun. Make him walk through a gauntlet of people holding photos of loved ones who were shot to death, people who call him a murderer and beg him not to buy a gun."
It is an alarming and attention-getting metaphor at this point in our history to juxtapose these two huge political debates in our country. According to Republicans, every MAN has Three inalienable rights:
To own an unlimited arsenal of highly lethal military assault weapons and ammunition, AND

To refuse public health mandates for vaccinations because only HE decides about HIS own body, AND

To be subjected to minimal legal/moral liability for his essential role in causing a woman's pregnancy, thereby condemning her to decades of child-rearing burdens.
These same Republicans have a far more parochial view of the rights of American women to manage their own lives and bodies. Should Roe v. Wade fall as is widely anticipated, nearly all Republican-controlled states have laws that will immediately go into effect to severely restrict every woman's rights as a citizen simply because of their gender. REALLY?? Looks like time to dust off that Equal Rights Amendment and make it Law, huh…?

As we go to press tonight, the first public report from the Jan 6 Committee is being broadcast nationwide while Fox and other Right-Wing Press are pumping out propaganda for their vast Zombie army. Tragically, their brains, washed clean of actual facts about their world, have left only empty skulls, endlessly echoing slogans from Trump, Hannity, and Carlson. Alas, these are the sad remnants of the very footsoldiers of Trump's Orc army who did so much damage on January 6.
Seriously, the quote above is evocative, timely, and worth sending to everyone you know, including your elected representatives at all levels. Our democracy continues to hang but a fragile thread away from becoming a dystopian, corporate Hell under the banner of self-anointed white men and the cruel gods they have created in their own image.

If you enjoyed this post, please consider to leave a comment or subscribe to the feed and get future articles delivered to your feed reader.