Open 4-6 pm Fridays
This Week's $10 Wine Tasting:
Ryan Patrick Rock Island Chardonnay '20        Washington       $16
Aromas and flavors of wildflowers, crisp apples, honey, and cinnamon roll with a round, crisp,  body and a graceful finish of sumac-spiced croutons.
Rubino Oltreme Susamaniello  '19     Italy    $15
Fresh, fragrant notes of cherries, pomegranate, raspberries and ripe plum; fruity, round and minerally, with soft tannins and rich flavors; a versatile pairing with richer dishes.
Seven Hills Walla Walla Cabernet  '20   WA     $32
Aromas of red cherries, black raspberry, and black tea, with hints of fresh herbs, cedar box, and earth; flavors of cherry, raspberry, dark chocolate, baking spice, and vanilla; medium bodied with plush texture, firm tannins, and balanced acidity.
Friday Bread Pickup This Week

Kamut Levain – Kamut, aka khorasan wheat, is an ancient, protein-rich grain discovered in a cave in Iran in the 70's that many people who can't tolerate wheat find more digestible. This bread is made with a levain that is fermented overnight before being mixed with with bread flour and fresh milled whole kamut flour. It has a nutty, rich flavor and makes a golden color loaf.  – $5/loaf
Le Pave d'autrefois – which translates roughly as old paving stones. This is a ciabatta like bread with a lot of hydration so is simply divided into approximate squares – hence the paving stones name. Made with a mix of bread flour as well as fresh milled whole wheat, rye and buckwheat flours for a lot of hearty whole grain goodness. A great artisan bread -$5/loaf
…and pastry this week…

Gibassiers – A traditional french pastry from the south of France. Made with a delicious sweet dough full of milk, butter, eggs and olive oil. The addition of orange flower water, candied orange peel and anise seed bring great flavor to these pastries. After baking they are brushed with melted butter and sprinkled with more sugar. – 2/$5
To get on the bread order list, click on the "Contact Us" link above and fill out the form. Each week's bread menu is sent to the list each Sunday, for ordering by Tuesday, for pickup on Friday. Simple, right..? If you will be visiting the island and would like to order bread for your visit, at least a week's notice is recommended for pickup the following Friday.
 Wine of the Week: Seven Hills Walla Walla Cabernet  '20   WA     $25

Seven Hills winery founder and 4th generation regional farmer Casey McClellan began planting grape vines in Walla Walla in the early 80's, making it one of the  the first few wineries in the area, and setting the stage for the rapid development of the Washington State wine industry over the forty years since.
Seven Hills pioneered the planting of primary Bordeaux varietals merlot and cabernet sauvignon in the area, demonstrating that the soil and climate of the area were ideally suited for vineyards in general and these varietals in particular. The winery has forged long-standing relationships with many of the most prestigious vineyards in the region, including Ciel du Cheval and Klipsun at Red Mountain and McClellan and Summit View in Walla Walla. The wines have an established reputation for a quiet, reliable quality. You will like it!

Tasting notes: Aromas of red cherries, black raspberry, and black tea, with hints of fresh herbs, cedar box, and earth; flavors of cherry, raspberry, dark chocolate, baking spice, and vanilla; medium bodied with plush texture, firm tannins, and balanced acidity.
Economics of the Heart: Looming Scarcities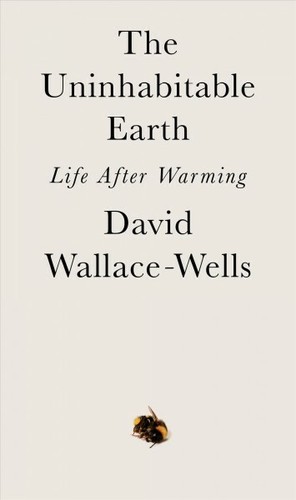 In a recent book (2020), David Wallace-Wells (see video ) effectively lays out the stakes in humanity's coy little dance around the profound existential threat posed by climate change. As we have discussed in this blog many times over the years, the world has clearly seen this coming for nearly fifty years and has done precious little to change its ways.
However, Wallace provides a pretty effective wake-up call that puts the problem into clear perspective with several compelling facts we now know for certain:
1.  There have been at least five mass extinctions on our dear Planet Earth:
450 million yrs ago– 86% of species gone

380 million yrs ago– 75 % of species gone

280 million yrs ago–

96% of species gone!

230 million yrs ago– 75% of species gone

 70 million yrs ago– 75% of species gone (dinosaurs)
These numbers are sobering and scary. What makes them even more scary is that:
2. All but the last extinction were the result of climate change.
The worst one was produced by a two-step greenhouse gas buildup that first raised global temperature by 5 deg C. ( 9 deg. F.) which warming in turn triggered massive releases of methane from the ground which made it even worse, and which very few species survived. A similar scenario could happen again if the icecaps melt completely and the tundra starts off-gassing methane from entombed remains of long-ago frozen animals.

3. More than half the carbon added to our atmosphere since the dawn of civilization has been emitted just since 1990, even though we have known the risks for nearly fifty years. We are speeding blithely along to more than four degrees C. of warming by the end of THIS Century! According to some estimates, that would render vast regions of the  world uninhabitable because of direct heat, desertification, and, paradoxically, catastrophic flooding and landslides.

To this point climate change has already brought enough record-breaking forest fires, hurricanes, floods, landslides, and tornadoes to have left few outright climate change deniers getting much traction with their arguments, and we have seen some signs of progress in the development and deployment of carbon-neutral energy production. But a lot of lives depend on how soon we can start bringing CO2 levels back down. Right this very moment millions of people across the world are already suffering from lack of food, water, shelter, and work.
As resources dwindle and more and more places become economically uninhabitable, competition for basic necessities is intersecting with increased numbers of failed and failing states with collapsing economies and infrastructure, powerless or lawless governments, and runaway inflation. And it only takes one climate disaster in an area to make it economically uninhabitable for more than a handful of people.
Millions of people across the planet will be seeking new locations as the number of habitable areas decreases and the moats protecting the habitable ones get increasingly impossible to cross.
If you enjoyed this post, please consider to leave a comment or subscribe to the feed and get future articles delivered to your feed reader.
Leave Comment
You must be logged in to post a comment.