The Way of the Dodo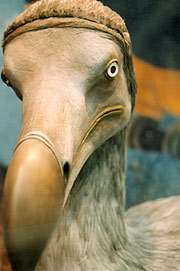 Like many species before it and many to follow, the Dodo was eliminated from the roster of currently living things about 400 years ago. Until then it had thrived on Mauritius, where life was so easy that it had evolved away from its ancestors' ability to fly. Accounts of what it actually looked like are contradictory, but let us assume that it was quite dashing for its time and place, and not, as this caricature suggests, reminiscent of an albatross hooked on Crack. However, like many species it was not equipped to defend itself against humans and their animals, which first arrived with the Dutch in 1598.
Similarly, we note this weekend the passing of the long-time tradition here at the Wine Gallery of the Five Dollar Wine Tasting. Like the Dodo, we have pushed the edges of our niche as best we could, but after eight years of holding the line while wine prices have crept, little by little, up and up, we are giving in to evolutionary pressure, and raising our tasting fee from $5 to $10.
However, unlike the Dodo, the $5 tasting is not extinct for all; it will continue to be available to our Wine Club Members. Just sign up next time you visit! (See below for more info.)
Wine Club News

Lest any of our stalwart supporters fall to the ground, grief-stricken by this devastating development, we urge you to Take Heart, for the $5 tasting is not, as rumored, extinct like the Dodo for everyone, oh, non, non, non, mesdames et monsieurs! The $5 tasting will be continuing for All of our Wine Club members! Back of the envelope calculations suggest that since it costs $35 to join the Wine Club for a year, anyone who plans on tasting wine with us at least seven times a year is better off joining the Wine Club than paying the higher fee. Put that together with the other benefits of membership and joining up is Pretty Appealing! Just click on the Wine Club! link above to sign up.  At some point we will have a nifty way you can pay your annual membership online, but for now just sign up online and you can ante up on your next visit!
Speaking of Online Stores
Rumor has it that the Original Principle, or whatever was around that transcended the Big Bang, or the whole Multiverse of Big Bangs, made Our Entire Cosmos in "three days," whatever that means. I can only interpret that as meaning that creating the Universe is Easy, but creating an Online Store is more difficult! After weeks of challenges, our Web Professional has advised us to Abandon All Hope of ever getting our online store functioning on the WordPress platform. The argument is convincing, given our experience over the last few months, and the rationale heads in the general direction of "don't expect layers of complicated platforms that are continually being redesigned for blogging to stay still long enough to build a store on." You heard it here first, folks!
So we are giving up on WordPress Ecommerce for our online wine shop, and now trying to get up and running with an old open-source package called Zencart. I explored it some years ago, but, in full disclosure I must admit that I gave it up because it seemed way too complicated! Which leads to the insight that, well, there are different kinds of complications and some may be easier to deal with than others…although of course you never really know. So, philosophically speaking, the search for an online store that meets our balance of expense, functionality, and ease of management is pretty much like everything else we do: the best we can with the resources available.
I must admit that regardless of whether we will ever be able to pull this thing together into a functioning online store, there is a definite appeal to using open-source products like ZenCart. It is aesthetically appealing in the same way as our backroom desktop computer which is running a Linux-based operating system called Ubuntu. That is, nowadays we have the choice of buying in to the slick corporate parade of New! Upgrade! Planned Obsolescence! represented by Apple and Microsoft, or opting into a more sustainable path….for the moment, however, we do NOT have an online store. But like the empty concrete silos you see in abandoned shopping centers, the artifacts of our recent attempts are still visible…  WordPress version  (abandoned)       Zencart version (under construction)  Your thoughts? Please comment.
First Wine Club Perk!


Okay, here it is, your first Wine Club Perk! A month or two ago  a gentleman contacted me looking for a wine that Robert Parker (yeah, I know, most of our crowd says Robert Who???) gave a stupendously high rating of 94 points (read: A++)  despite its modest price of $16. My research revealed that the wine was not available in Washington, but was very hot in the Northeast (closest to Europe). Figuring it would all be gone before it ever hit the West Coast, I advised the gentleman that I had ordered a bunch but might never see it, so he should order it from Wherever!
All you need to know is that I bought five cases of this amazing wine, and offer it to our members at a mere $15 a bottle, this weekend only! Can't come in this weekend? Send us an email order. Or, maybe by the time you get this it will be listed in the online store (sometime Friday!). We have tasted it, and it is both Big and Delicious; we recommend decanting for several hours.
This Week's Wines

San Martino Prosecco    Italy     $11
Pale straw yellow in colour, aromatic and elegant nose (unusual in prosecco), with notes of apple and banana; pleasantly full and harmonious on the palate.
Borsao Campo de Borja '11 Spain 88pts     $11
Inky purple, mostly garnacha. Aromas and flavors of blueberry, blackberry and bitter cherry are brightened by peppery spices. Concentrated and velvety in texture, with good finishing breadth and cling; outstanding value.
Montes Classic Malbec '11 Chile           88pts            $11
from nearly 100-year old vines in the Colchagua valley; ripe dark cherry and creme de cassis on the nose while the palate offers ripe, chewy, dark cherry and bilberry fruit encased in fine tannins and a pure vanilla-y finish that is satisfying.
Crios de Susana Balbo Malbec '11    Argentina    89pts    $14
Good full medium ruby.  Crushed blackberry, licorice and violet on the lively nose.  Quite ripe and sweet in the mouth, showing impressive volume and breadth for the price range.  Finishes with serious ripe tannins and noteworthy persistence.
Bodegas Triton Tempranillo Entre Suelos '10    Spain    90pts     $12
Inky purple.  Sexy, oak-spiced aromas of black raspberry and cherry, with pipe tobacco and floral nuances building with air.  Fleshy, supple and sweet, offering bright red and dark berry flavors and a smoky, spicy quality.  Fine-grained tannins help shape the a long, smoky finish.
If you enjoyed this post, please consider to leave a comment or subscribe to the feed and get future articles delivered to your feed reader.