Friday Breads (contact us to get on the pre-order list!)

Whole Wheat Ciabatta – A mix of bread flour and fresh milled whole wheat and uses two different types of pre-ferments, an Italian biga and a poolish. When the final dough is mixed it is then fermented overnight in the refrigerator, which  jump starts the enzymatic activity, enhances flavor and promotes digestibility of the bread.  A great flavorful artisan bread – $5/piece.
Egg Bread with Dried Apples and Honey – This bread is also made with a pre-ferment before mixing the final dough. Then it is enriched with lots of butter, eggs and honey which makes for soft crumb and flavorful bread. The dough is divided into portions which are then braided. Makes for great toast and even better french toast- $5/loaf.
And, for a bit of pastry:
Palmiers – (aka Elephant Ears) – These are made with a puff pastry dough that is almost equal parts butter and flour. It is rolled out and spread with sugar before folding and slicing. I've heard Di say these are one of her favorites. And boy are they delicious!!  – 4/$5.

Make a note of it: Open Friday, Closed Saturday!

As we mentioned last week, the wine shop will be open for bread pickup and wine sales as usual on Friday this weekend. Though there will not be an official wine tasting, as in the past some of you might chip in to share a bottle and schmooze a bit while you pick up your bread from Janice. It's yet another expression of the ever-unfolding benefits of wine club membership!
Be sure to note, however, that the wine shop will be closed all day on Saturday, May 21! We will re-open as usual next Friday the 27th to kick off the Annual Lummi Island Memorial Day Weekend Artists' Studio Tour. Friday will be Bread Friday as usual PLUS it will be an opening reception for Anne Gibert, our featured artist for Studio Tour. More on that next week!
Still Waiting for Seriozha
We have been in Sonoma for a couple of days now, kind of hanging out, trying to stay out of the way of what is surprisingly normal everyday life as a birth approaches. As is clear in this photo from several weeks ago, where Papa Bear Don is showing Sympathetic Belly for Mama Bear Marina (holding Yellow Cat),  the Forces of Nature unfold inevitably and at their own mysterious pace.
And let's face it, guys– we can have beer bellies, paunches, fat rolls, and even occasional Bloating, but this shape is singularly and archetypally Female. We eat, we sleep, we wander and wait. A vigil of sorts. An oddly quiet time before Everything Changes…!
Rosso Pizzeria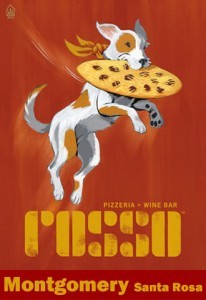 Yesterday we drove over to Santa Rosa to take care of a little car rental business, after which we started looking for a place to have lunch. The first thing you need to know is that Pat and I have often been blessed with strange and wonderful Food Karma. Which is to say, we have a long history of wandering in Unknown Territory, feeling a little hungry, and looking for a Little Something. Often in the Middle of Nowhere. And we Stumble into some Questionable-looking Joint to find that OMD, out of Nothing the Universe has created for us an Unexpected Treat.
So it was yesterday in Santa Rosa when we went looking for a little restaurant we stumbled upon (yes, lots of ristorante stumbling) a couple of years ago that we recalled was part of a hospital complex. The restaurant we were thinking of was Chloe's French Cafe. So we thought, okay, let's look for that, only to find ourselves at a hospital cafeteria..i.e., wrong hospital! 
A bit of wandering across several desolate parking lots led us to an entirely unimpressive-looking "pizza restaurant," the Rosso Pizzeria, where we shared a late afternoon flight of several rose wines and a delightful plate of baked pizza dough (pizzeta) with salt, olive oil, and prosciutto with freshly made burrata, followed by a plate of roasted mussels + white wine + lemon + pancetta + shallot+ garlic + tarragon. 
Good food and good wine: the perfect way to pass our precious time! See you next weekend!
If you enjoyed this post, please consider to leave a comment or subscribe to the feed and get future articles delivered to your feed reader.