email subscribers: click here to comment on this post
note: some photos may link to larger formats when clicked
Bread This Week
Whole Wheat Levain – Made with a sourdough starter fermented overnight in the refrigerator, which  allows the fermentation process to start and the gluten to start developing. The bread is made with levain, bread flour, and about 25% fresh milled whole wheat. I like to say it has a 'toothy' crumb, it has great texture and flavor and a nice crisp crust.  – $5/loaf
Buckwheat Rye – Fresh milled buckwheat and rye flours are soaked for 8 hours in a method known as an autolyse. As buckwheat and rye don't have much gluten this allows what little gluten there is to start developing and really gets the enzymes going before the final mix – which is then fermented overnight in the refrigerator. The buckwheat-rye soaker is mixed with bread flour, salt and yeast and a bit of honey. Goes well with all sorts of meats and cheese – $5/loaf
Pastry this week…
Bear Claws! – Made with a danish pastry dough rich in cream, eggs, sugar and butter. The dough is rolled out and spread with a filing made with almond paste, powdered sugar, egg whites and just a bit of cinnamon to round out the flavor. Then, because bears love honey, topped with a honey glaze after baking. – 2/$5
ps: the last two times Janice has made these, real, live, Actual Bears have been sighted on the Island…Stay Alert!
December  Schedule
–Nov 30-Dec 1 and Dec 7-8: open both weekends for Bread Fridays 4-7 and Saturdays 2-6
–Dec 14-15: OPEN FRIDAY, CLOSED SATURDAY
–Dec 21-22 and 28-29: open usual hours
and…mark your calendars…Dec 31: 13th Annual "East Coast New Year's Celebration" 7-9pm..!
Refosco Update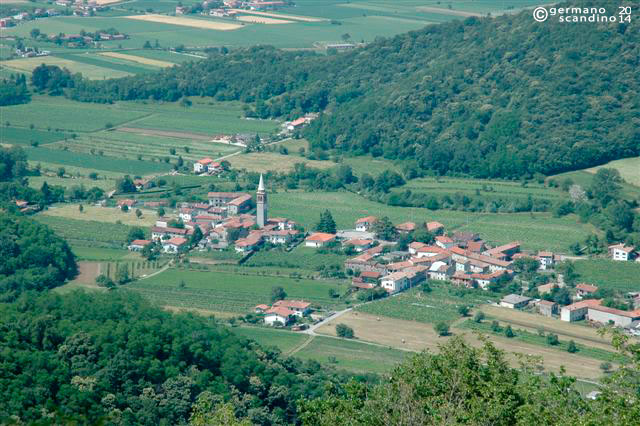 As we have mentioned before, from our earliest days back in 2005 we have kept an eye to Weather for signs of wines made from the elusive Slovenian grape refosco. This year so far we have found and poured for your tasting education and pleasure (is there a difference…?) two examples of these wines, and this weekend, since the previous examples were so interesting and appealing, we offer a third. This week's offering comes not from Slovenia exactly, but from the the Colli Orientali de Friuli "the eastern hills of Friuli") in Italy just a short walk over the northern border with Slovenia and about 60 miles north of Venice.
Officially named Refosco dal Peduncolo Rosso, this wine comes from 25-year old vines in Torreano di Cividale (see photo, left). It shows an intense red color and good consistency, with aromas of  blueberry, blackberry and raspberry, good balance. and characteristic tannins that let it pair nicely with rich beef or game.
Lore has it that the first vines were planted by a Roman Centurion named Taurus for whom Torreano is named. Today's wine reflects that commitment of focusing time and energy to grow rich and generous grapes, hand-harvested with low yields per hectare.
Mar a Lago Update: Two Years Down, a Million to Go*

Everybody knows that the man's a Faker,
Everybody knows that his stuff is Wrong;
Everybody knows that he's a Taker,
Everybody knows that he's weak, Not strong.
Everybody knows that he stole our Power,
And he's not inclined to give it back,
That's how it goes…
And Everybody knows.
Everybody knows that the World is Broken,
Everybody knows that it Can't be Fixed;
Everybody knows Whatever Words are Spoken,
Everybody knows that they're being Tricked;
Everybody knows that the Game is Lost,
We never had a chance though we thought we might,
That's how it goes…
And Everybody knows.
*with heartfelt apology to Jikai for twisting his words…
Washington Post Tweetster Lie Count to date: 6,420 as of 11/2/18
This week's wine tasting
Treana White '16    California     $16
Seductive blend of viognier, marsanne, and roussanne. Aromas and flavors of pineapple, dried apricot, peach and Clementine orange  with floral notes of honeysuckle and elder flower and sweet notes of marzipan, honey, graham cracker and cinnamon.

Bieler La Jassine Cote du Rhone '15   France $15
(63% grenache, 37% syrah) Solid, with plum and blackberry compote flavors forming the core, backed by a good snap of licorice and a dose of dark toast on the finish. Has good drive overall.
Bodegas Ateca Atteca '15     Spain    $14  
Displays aromas of cedar, an earthy minerality, black cherry, and lavender leading to a savory, deep, well-balanced red with succulent fruit and a lengthy, seamless finish.
Tommasi Poggio Al Tufo Rompicollo '14      Italy    $17
Opulent, with an Amarone-like raisiny nuance to the ripe, soft red cherry, sweet spice, and herb aromas and flavors. Velvety, opulent, well balanced and smooth, with long, lush, smooth tannins. Terrific buy!
Guerra Albano Refosco '15 Italy $20
Smooth and complex, with hints of blueberry, vanilla, coffee, a good balance of tannins, a long finish, and rich, big flavors.
If you enjoyed this post, please consider to leave a comment or subscribe to the feed and get future articles delivered to your feed reader.