click on photos for larger images
Friday Breads


Poolish Ale – Made with bread flour, a bit of yeast and, instead of water, a nice ale for the liquid which is then fermented overnight and mixed the next day with bread flour and fresh milled whole wheat. This makes a great all around bread with a nice crisp crust – $5/loaf
Buckwheat Walnut & Honey – A flavorful artisan bread also made with a poolish, fresh milled buckwheat and bread flour. Buckwheat is actually a seed not a grain, closer to rhubarb and sorrel than to wheat, and contains no gluten. (note: this bread is not gluten free as it is also includes some wheat flour.) Buckwheat has an earthy flavor that in this bread is balanced with a little honey and toasted walnuts.- $5/loaf
and pastry this week…
Chocolate Croissants- A traditional laminated french pastry made with a bit of sourdough and another pre-ferment to help create the traditional honeycomb interior. Rolled out and shaped with delicious dark chocolate in the center. – 2/$5
( breads must be pre-ordered by Wednesday for pickup here at the wine shop at our Friday wine tasting, 4-6pm. Planning a visit to the Island? Email us to get on the mailing list!)
La Quercia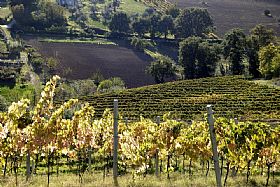 Montepulciano is the 2nd most planted red grape in Italy (after Sangiovese) and has a reputation for making low-priced, juicy, "pizza-friendly" red wine. Winemaker Antonio Lamona of La Quercia winery is a grizzled and likable grape farmer who grew up in a grape-growing family. Years later he became the first in the family to bottle his own wines. Following a Muse in the late sixties, he began organic cultivation of his vines, with all grapes hand-picked and pressed within two hours of harvest. Located on a windy hillside along the Adriatic in Moro d'Oro in Abruzzo, the farm produces salami, bread, vegetables, olive oil, and cheese as well as great wines.
The farm is run by four friends who became colleagues by chance in the late 80s. In 2000, they took over a small winery called La Quercia, which includes about 12 hectares in vineyards and 3 in olive tree groves. They strive to produce wines that reflect the qualities of their vineyards. Quercia means "oak tree" which is a symbol for strength and genuineness. We have been carrying wines from La Quercia through Seattle importer Small Vineyards for well over ten years, and they are always refined and delicious.
Many of you are familiar with their Montepulciano Riserva, which we have carried for many years. This is the first year that we were not offered an opportunity to buy the Riserva but instead will be pouring the younger version. While it does not have the depth of the Riserva, it offers the brightness of younger vines and the freshness of less aging. And it's also $10 less per bottle!
Hat in search of owner

During the most recent Artists Studio Tour on Labor Day weekend we had a lot of visitors much of the day. I do recall at some point noticing a gentleman of a certain age, maybe a bit Zorba-like, part of a family group perhaps. He was casually and comfortably dressed, accented by the hat and sunglasses shown at left.
At the end of the day I noticed that the hat and sunglasses were still in the shop, left atop the shelf over the stairs where we usually display bubbly. As in the photo the glasses were left atop the hat.
The man did not look familiar, so it is unlikely he will ever see this post. However, perhaps someone reading this will recognize them and help us get it back to theri rightful owner.
Mar a Lago Update: Matters of Honor

We find ourselves unconsciously contrasting the apparent character of some of the players in the current News Cycle– the Tweetster, Secretary Pompeo, Senator Graham, and Ambassador Taylor among them. And in particular we are musing on the apparently archaic notion of "honor," most eloquently described in a short paragraph written in 1899 by John Walter Wayland, an historian from Virginia, in his winning response to a contest conducted by the Baltimore Sun looking for the best definition of a True Gentleman. He wrote:
"The True Gentleman is the man whose conduct proceeds from good will and an acute sense of propriety, and whose self-control is equal to all emergencies; who does not make the poor man conscious of his poverty, the obscure man of his obscurity, or any man of his inferiority or deformity; who is himself humbled if necessity compels him to humble another; who does not flatter wealth, cringe before power, or boast of his own possessions or achievements; who speaks with frankness but always with sincerity and sympathy; whose deed follows his word; who thinks of the rights and feelings of others, rather than his own; and who appears well in any company, a man with whom honor is sacred and virtue safe."
These days we rarely speak of "gentlemen" in these terms or any other, or think much about character, honor, loyalty, service, or grace. Yet when we think about the values enshrined in our Constitution, we see the same principled aspirations. And it used to be comforting to imagine our nation would always choose leaders who would embrace these values in their dealings with us, with each other, and with other nations.
Ambassador Taylor stands out to us as personifying these values over some fifty years in the military and in foreign service, demonstrating by his actions a firm stand on principle. In contrast, Secretary Pompeo, like Taylor was a distinguished West Point graduate and military veteran. But unlike Taylor he has chosen to compromise his honor and  principles by witnessing and going along with the Tweetster's extortion attempt on the Ukraine President, and now dissembles about it, when he has been trained to know that an evasive statement is as dishonest as a Lie. He should have heeded Michael Cohen's advice, that the Tweetster would Drag them all Down as he did Mr. Cohen. We confess some disappointment with Pompeo's choices.
Mr. Graham, in contrast to both, is typical of an entire class of contemporary politicians, who can assert one thing today and its exact opposite tomorrow if that is what expediency demands. If Pompeo's honor is in tatters, Graham's (and many others) have none and have no idea what it is or what is means. All exigency orbits around a single idea: remaining in power at all cost.
Finally there is the Tweetster himself, a bizarre melding of bete noir and enfant terrible, a man who is completely incapable of telling the truth about Anything, as if some traumatic childhood experience taught him that his Emotional World Would End (like Daddy disapproving or Mommy disappearing…?) if he admitted Anything about Anything. "Honor" is to him, like a Hurricane at sea, "most devoutly to be eschewed," because it would surely lead to unbearable Pain. Instead, like all psychopaths, he has a gift for telling people what he instinctively knows they want to hear so much they will compromise their values to hear it…as every con man does, and as Michael Cohen warned.
At the moment we have Republicans falling over themselves trying to court the Tweetster's favor, as if they are in some kind of trance. If his astonishing betrayal of the Kurds, strongly suggesting a deliberate and treasonous collusion to help Russia and Turkey, isn't enough to terrify his disciples enough about the implications of Another Term to call them to Action, things could get Really Ugly Really Soon.
Washington Post Tweetster Lie Count to date: 12,000 as of 6/10/19
This weekend's wine tasting
Jane Ventura Cava Rose  '16       Spain    $16
Clean aromas of almond with strawberry, and cherry with aromas  of anise and country herbs; well balanced, dry, light and fresh with a long,
persistent finish.
Bernier Chardonnay '18     France     $12
Lemon, herbs and lees on the nose. Full-on minerality, with a touch of lemon curd. Crisp, elegant, steely, and citrusy personality; classic Old World style.
La Quercia Montepulciano '17       Italy    $13
100% organic montepulciano d'abruzzo from low-yield vinification by winemaker Antonio Lamona for one of the best, most expressive, and balanced Montepulcianos around. Opens with aromas of sour cherry with a hint of new leather; ripe fruity palate exhibits juicy blackberry, raspberry and a hint of anise;  easy drinking with soft tannins.
Can Blau Can Blau '16      Spain     $16
Long an Artisan favorite; consistently showing aromas and flavors of ripe dark fruits and berries, a seamless texture, and long, silky finish that improves with aeration.
Seghesio Angela's Garden Zinfandel '17    California     $19
Aromas of wild blueberry, briary raspberry patch and baking spice give way to a palate of juicy, ripe blackberry and black plum. Soft tannins, a rich mouthfeel and focused acidity lead to a long finish.
If you enjoyed this post, please consider to leave a comment or subscribe to the feed and get future articles delivered to your feed reader.