Current Covid Protocols

Forecast is for little sun on Friday, and a bit of rain on Saturday, but definitely getting cooler. After some rumination, we will experiment with indoor tasting on both Friday and Saturday from 4-6 pm to see if it is feasible in what we hope are the waning months of Covid lockdown.
   — You must have completed a full Covid vaccination sequence to participate;
    — We ask all to maintain mindful social distance from people outside your regular "neighborhood pods."

Friday Bread
Each Sunday bread offerings for the coming Friday are emailed to the mailing list by Island Bakery. Orders returned by the 5 pm Tuesday deadline are baked and available for pickup each Friday at the wine shop from 4:00 – 5:30 pm.
Over the years the bakery has established a rotating list of several dozen breads and pastries from which two different artisan breads and a pastry are selected each week.
If you would like to be on the bread order mailing list, click on the Contact Us link at the top of the page and fill out the form.
This week's deliveries:
Semolina w/ Fennel & Raisins – A levain bread made with bread flour, semolina and some fresh milled whole wheat. A little butter for a tender crumb and fennel seeds and golden raisins round out the flavors. These flavors go really well with meats and cheese, but it also makes pretty darn good toast – $5/loaf
Whole Wheat Levain – Made with a sourdough starter built up over several days before a levain is made and fermented overnight to start fermentation and gluten development. The bread is made with levain and bread flour and about 25% fresh milled whole wheat for a 'toothy' crumb, great texture and flavor and a nice crisp crust.  – $5/loaf
and pastry this week…
Cinnamon Rolls – Made with a rich dough of eggs, butter, and sugar, rolled out, spread with pastry cream, and sprinkled with cinnamon sugar. Then rolled up and sliced into individual rolls for baking and topped with a yummy cream cheese glaze. Delicious!! – 2/$5
Wine of the Week: Ad Lucem Daystar Syrah Red Willow '15     Oregon     $34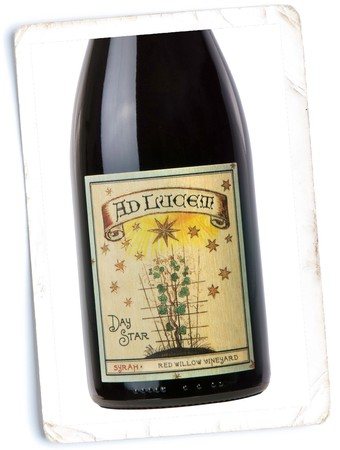 For those of you (98%…?) who never took Latin, the rough translation of "Ad Lucem" is "Toward the Light." It is also one of several labels used by Oregon wine industry pioneer Jerry Owen of Lady Hill Winery, who was a founding partner in the well-respected Owen Roe winery in 1999. Lady Hill Winery is across the road from Champoeg State Park in the northern Willamette Valley in Oregon, where his ancestors settled in 1850.
Jerry uses the Ad Lucem label for his Rhone varietals (grenache, syrah, mourvedre); Lady Hill for Bordeaux varietals (cab, cab franc, merlot, malbec), and Procedo for his "super-Tuscan" blends of Bordeaux and Italian varietals.
We have made it something of a habit to visit the winery whenever we bivouac at this very pleasant State Park, and have found it a pleasant destination with memorable wines and enjoyable conversations with staff and visitors. He has offered to drive up some weekend and pour some of his wines for all of us, and we hope we can make that happen when Covid allows.
The Economics of the Heart: Irreconcilable Differences


A recent column in the New York Times by Thomas Edsall explores this question: "Just who believes the claim that Donald Trump won in 2020 and that the election was stolen from him? Who are these tens of millions of Americans, and what draws them into this web of delusion?" The story then traces numerous statistical studies showing:
They are disproportionately white, Republican, older, less educated, more conservative, and more religious-right;
60% agree that "immigrants are invading our country and replacing our cultural and ethnic background;"
Regardless of age, 69% of white Republicans were likely to agree that "the 2020 election was stolen from Donald Trump;"
American right-wing organizations constituted 66 percent of all attacks and plots in the U.S. in 2019 and over 90 percent in 2020;
They prefer an anti-egalitarian, anti-intellectual, group-based hierarchical social structure and the use of aggressive force to maintain it.
Psychologically, they feel dissed by the intellectual/liberal left, and identification with authoritarian groups provides a vicarious sense that their lives and opinions matter. The War on Facts is therefore thought to be driven by the rift between the intellectual left and the populist/anti-intellectual right.
This ties in with our observation that American conservative media has played a deliberate role in fostering distrust and disrespect for the political Left for a generation. Beginning with the FCC's opening of public airwaves to unbridled political "hyperbole" in the late 80's- early 90's, launching Limbaugh, O'Reilly, and countless other "talk show hosts" on a targeted crusade to build distrust and even hatred of "liberal elites." By 1995, Newt Gingrich had jumped on the same bandwagon and deeply damaged most remaining vestiges of political collegiality in Congress.
Since then the divergence of underlying values between parties has only gotten worse over time:  Bush v. Gore–> tax cuts for the rich; 911; Iraq and Afghan invasions; Guantanamo; Abu Graib; extreme rendition; water boarding; '04 election–> more tax cuts for the rich; economic collapse of '08; stonewalling of Obama's Supreme Court nomination…we could go on and on. There is a litany of some thirty years of increasing disrespect for the rights of individuals and deference to the interests of the rich and powerful. That our nation suddenly appears to be on the threshold of dissolution evokes a deep sense of Grief and Hopelessness.
Like any economic system, any representative government requires a set of common values, a set of rules, and will in the people to maintain and follow them. The scary prospect of the moment is that Republicans and Democrats may no longer have a "close enough" set of values to be able to make the compromises necessary to maintain a truly representative government. Given the nearly universal movements in Red-State legislatures to disenfranchise likely Democratic voters, it has become clear that without a new Voting Rights Act the electoral playing field will be heavily tilted to the Right just as the World squares off against the overwhelming forces of climate change and the increasing poverty, starvation, desertification, flooding, migrations, and war they will cause.
This week's $5 tasting:
Casal Garcia Vinho Verde          Portugal      $10
A light wine that is marked by its beautiful citric colors and incredible freshness with with soft aromas of tropical fruits and citrus. A very balanced wine that finishes with a refreshing, crisp, and harmonious finish.
Olim Bauda La Villa Barbera d'Asti '17 Italy $14
Aromas and flavors of dark, rich red berries and currants; rich, ripe style with lots of up-front fruit and beautiful cleansing acidity.

Ad Lucem Daystar Syrah Red Willow '15     Oregon     $34
Subtle vanilla and mulled plum meld with ripe berries, rich, blackberry liquor and intricate barrel spices. Red and black fruits lead the weighted, lingering mouthfeel and sweet, juicy finish. Rich and balanced, a beautiful wine at its peak.
If you enjoyed this post, please consider to leave a comment or subscribe to the feed and get future articles delivered to your feed reader.