Current Covid Protocols

Attendance has been sparse the past two weekends due to annual ferry drydock as well as Covid. Lots of folks leave the island, others hole up, and last Friday's freak windstorm kept people hunkered down at home. So it has been quiet and low-key around the wine shop, which is just fine during Covid.
This weekend's forecast is for nice weather, so we will have outside tasting as an option both Friday and Saturday. We will be open for wine tasting and sales Friday and Saturday from 4-6pm, with the following guidelines:
You must have completed a full Covid vaccination protocol to participate;
We ask all to maintain appropriate social distancing from people outside your regular "neighborhood pod."
Friday Bread
Each Friday Island Bakery delivers fresh bread ordered by customer email earlier in the week. Each Sunday offerings for the coming Friday are emailed to the mailing list. Orders must be returned by 5 pm on Tuesday for pickup at the wine shop the following Friday from 4-5:30.
Over the years the bakery has established a rotating list of several dozen breads and pastries from which are selected two different artisan breads and a pastry each week.
If you would like to be on the bread order mailing list, click on the Contact Us link at the top of the page and fill out the form.
This week's pickup:
Multi Grain Levain – Made with a sourdough culture and a flavorful mix of bread flour with fresh milled whole wheat and rye flours as well. A nice mixture of flax, sesame sunflower and pumpkin seeds and rolled oats add great flavor and crunch. And just a little honey for some sweetness. A great all around bread that is full of flavor – $5/loaf
Polenta Levain –Also made from a levain of bread flour with polenta added in the final dough mix for a nice rustic loaf with great corn flavor. – $5/loaf
and pastry this week…
Brioche Tarts au Sucre – otherwise known as brioche sugar tarts. A rich brioche dough full of eggs and butter is rolled into a round tart and topped with more eggs, cream, butter and sugar. – 2/$5
Wine of the Week: The Wolftrap Syrah Mourvèdre Viognier '19     South Africa    $11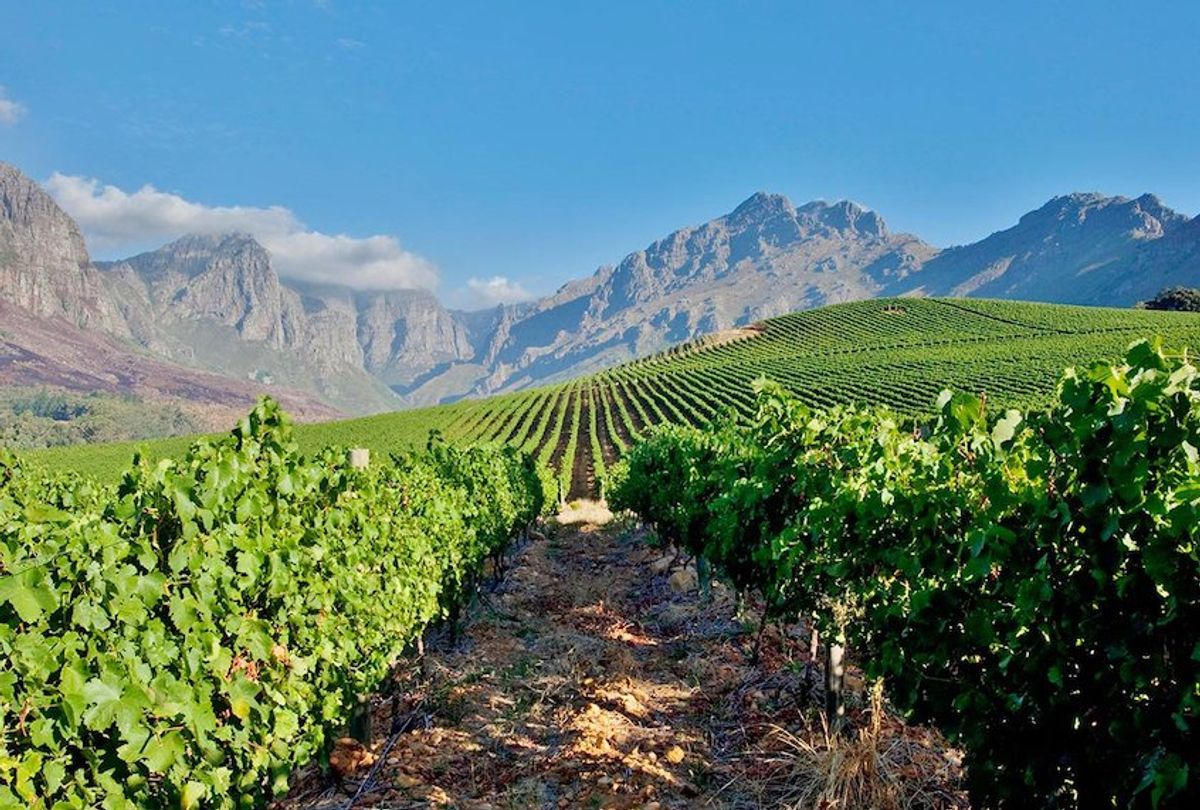 Boekenhoutskloof farm was established in 1776. Located in the furthest corner of the beautiful Franschhoek Wine Valley of South Africa, about 50 km east of the Cape of Good Hope.
The farm's name means "ravine of the Boekenhout" (pronounced Book-n-Howed), which is an indigenous Cape Beech tree greatly prized for furniture making. In 1993 the farm and homestead were bought and restored and a new vineyard planting programme was established that now includes Syrah, Cabernet Sauvignon, Cabernet Franc, Grenache, Semillon and Viognier.
When the farm was founded, the Franschhoek valley was far wilder than it is today. Though the mountains are still alive with indigenous animals, including the majestic leopard, the only evidence that wolves once roamed here is an ancient wolf trap found long ago. This wine was named in homage to the mysteries and legends of days gone by.
Most of the Syrah in The Wolftrap comes from the Swartland region (photo, left), where it develops its robust character and elegant aromas of violets and ripe plums, accentuating its spicy, peppery profile while retaining the juicy, fruity character which is its hallmark. The Mourvèdre, also from the Swartland, lends a red fruit character and smoky body while the dash of Viognier brings perfume and vibrancy to the blend and makes for a rustic Rhône-style blend that seriously over-delivers for its $11 price point.
The Economics of the Heart: The Plot Thickens

Politicians have always done a dance with the truth. To some degree the art of tactical deception is part of being human, the product of millions of years of primate evolution. As social animals, everything we do has consequences for our relative position in a tribal hierarchy, well-being, and survival.
Experiments have shown that we humans begin learning to lie as toddlers, and get better at it as we age. In one experiment, children were asked to guess the identity of a hidden toy. When left unsupervised for a few minutes, 30% of two-year-olds cheated by finding the toy and lying about it, increasing to 80% for eight-year olds. And not only was deception more common among older kids– they had also gotten more skilled and subtle at it. Whether we call it Charm or a con game, we all try to highlight our skills and divert  attention from our weaknesses, to cozy up to power and oil the wheels of our own progress.
To some degree, politics and wealth are the Major Leagues of social hierarchy…yup, Money and Position. But that doesn't mean there haven't always been Rules. As economic philosopher Joan Robinson reminded us, every economic system requires a set of values, a set of rules, and a will in the people to carry them out. By implication, of course, we are in Real Trouble when we find ourselves in a society that does not agree on either a set of values or on a set of rules. What then?
In the 1930's, shaken to its economic foundations by the Great Depression, the United States, under the leadership of FDR, instituted a new set of economic rules. The New Deal was a major reorganization of the nation's economic structure. It established the first economic safety nets in the form of Social Security, a progressive income tax , and government-funded public works projects. The goal was to get more people housed, fed, and employed. Under the new Keynesian economic theory, the injection of more spending would create demand for products and services, creating more demand, and so on through a Multiplier effect.
As we all know, this Keynesian set of policies, together with the increased economic demands of WWII, fired up the US economy and kept it going until the election of Ronald Reagan to the Presidency in 1980. Beginning with their idiotic notion of "supply side" economics, Reagan Republicans committed themselves to dismantling the apparatus of the New Deal by lowering tax rates on the wealthy and corporations, gutting low income safety nets and industrial regulation…you know, the Whole Catastrophe.
Even so, there was a measure of formality and collegiality in Congress and State Legislatures until the ascension of Newt Gingrich to House Speaker in the mid-nineties, and everything changed, perhaps best summed up by a local state legislator of the era who, speaking on the topic of allowing some grade school classes to be taught in Spanish, referred to the Bible and said "If English was good enough for Jesus, it's good enough for me!"
Fast forward to Today and the stunning revelations from the new book by Bob Woodward and Robert Costa on the details of Tweetster and company's attempted coup against the United States after losing the election last November. All the evidence has pointed to this since the Muller investigation began. Woodward and Costa have gathered together a stunning documentation of a complex conspiracy of Congressional Republicans and other Trump loyalists to overturn the election results.
This time, we think, the facts will win the day. But we also remember that the facts have not counted for much since 2016. They didn't count in the Muller hearings, or the Kavanaugh hearings, or the First impeachment, or the Second Impeachment.
Let's not mince words: we are talking about Treason here: a deliberate conspiracy to overthrow the results of the 2020 Presidential election and install the Loser. Most of the Republicans in Congress and the Senate are co-conspirators.
So, no, we do NOT agree on a set of values or a set of rules. And we are still in a pandemic. And Global Warming is huffing and puffing at the front door AND the back door. Where's that corkscrew…?
This week's $5 tasting:
Marchetti Verdicchio dei Castelli di Jesi Classico '19         Italy       $14
Verdicchio/ Malvasia blend using only free-run juice; pale straw color with green overtones; intense bouquet of citrus, lemon zest, and floral notes,with complex fruity character, and crisp, well-balanced palate.
The Wolftrap Syrah Mourvèdre Viognier '18      South Africa    $11
Aromas of ripe plums, red currants, violets, Italian herbs and exotic spices lead to vibrant flavors of darker berries and spicy plum with hints of orange peel that linger on a juicy finish.
Jordanov Vranec '15    Macedonia   $12
Aromas of ripe berries with notes of clove, nutmeg and cardamom. In the mouth it is full bodied with ripe dark fruit and hints of herbs with a noticeable dark chocolate edge on the well-structured finish. Enjoy with cheese, beef or lamb dishes or grilled sausages
If you enjoyed this post, please consider to leave a comment or subscribe to the feed and get future articles delivered to your feed reader.